O2 Palm Pre launching October 16th from free [Updated]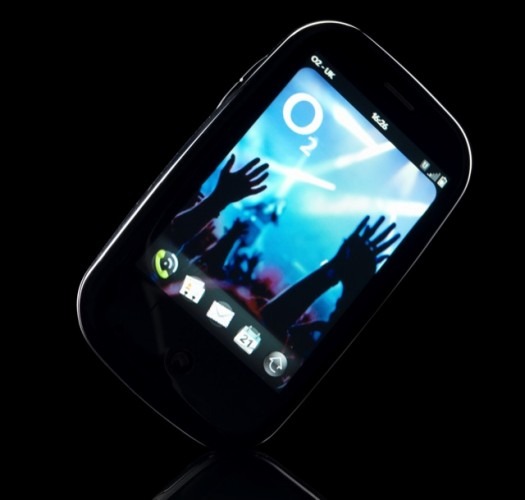 O2 have just announced that they will be launching the Palm Pre in the UK on October 16th.  The handset – the GSM version of the Sprint device that has been available in the US for several months now – will be priced between free and £96.89 ($159) depending on contract.Update: O2 in Germany and Ireland will also get the Palm Pre on October 13th and 16th respectively.  German pricing details here; Irish details after the cut.Full contract details after the cut
O2 will be offering the Pre with five different tariffs, four of which are 18 month contracts and a fifth lasting 24 months.  Ranging from £29.38 ($48) to £73.41 ($120), all include unlimited UK HSDPA data and WiFi access in The Cloud and BT hotspots, together with varying amounts of included calls and messages.
As for the Touchstone inductive charger, that will retail for £44.11 ($72).  Business users will also be able to pick up the Pre, free, on 24 or 36 month contracts at £30.91 ($51) or above.
Palm Pre O2 UK pricing: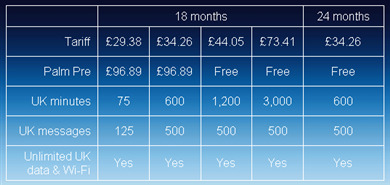 Palm Pre O2 Ireland pricing: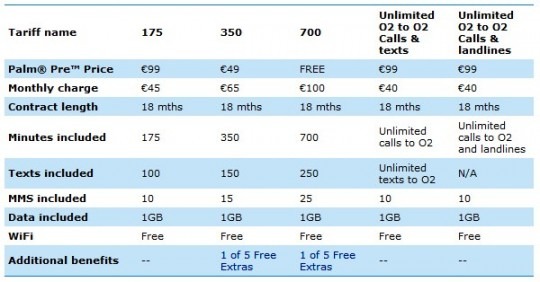 Press Release:
O2 to launch Palm Pre in the UK on 16 October

O2 today confirms that the Palm® Pre™ phone will be available in the UK on 16 October exclusively on the O2 network. Customers can purchase the new device directly from O2, the Carphone Warehouse, Phones4U and Business partners who are part of O2's specific partner programme. It will also be available for purchase online from the O2 shop at www.o2.co.uk/shop.

www.o2.co.uk/palmpre

Ronan Dunne, CEO of Telefonica O2 UK said "Today's announcement reinforces O2's position as the home of the smartphone. With the addition of the excellent Palm Pre to our already extensive portfolio, we will continue to offer our customers the widest range of the very best devices on the market today."

"There's a lot of excitement about Palm Pre in Europe as we continue to expand Palm webOS products across new carriers and countries," said Jon Rubinstein chairman and chief executive officer, Palm, Inc. "We look forward to launching Palm Pre with O2 so people in the UK can see firsthand how Palm webOS offers a new and better smartphone experience."

Palm Pre for consumers

Palm Pre is free to O2 customers taking out a 24-month contract and to customers taking an 18-month contract at £44.05 or £73.41 per month. See attached table or the O2 website for full tariff options. All customers will receive unlimited UK data browsing over O2's HSDPA network and unlimited access to 7,500 Wi-Fi hotspots through both The Cloud and now BT Openzone.

The Palm Pre will also be sold with some innovative accessories. The Palm Touchstone Charging Dock allows connectionless charging of your Palm webOS™ phone. Palm Touchstone is based on inductive technology based inside the Touchstone Charging Dock which allows you to charge the handset without connecting a wire directly to it. The Touchstone and Back Cover will retail at £44.11 a saving of £10.

Palm Pre for Business

Palm Pre running Palm webOS is a powerful business device, offering Palm Synergy features, multitasking capabilities, a full sliding keyboard, touch screen, robust messaging, GPS, and compatibility with 3G and secure Wi-Fi networks. It delivers business capabilities, including support for Exchange ActiveSync policies.

Palm Pre will be available on current O2 business tariffs as a monthly bolt on, with the device available for free to account holders on all business tariffs from £30.91on a 24 or 36-month contract. Palm Pre business customers can also receive the same benefits as existing O2 business customers including unlimited calls between O2 customers, unlimited calls to ten landlines, shareable minutes and texts between users plus multi-user billing and activation and free, 24x7 access to business customer care specialists. www.o2.co.uk/business

Palm Pre is the first phone based on the all-new Palm webOS™ software, which brings mobile applications together in a unique and intuitive multi-tasking platform that enables consumers and businesses to connect to their information in more useful and useable ways.(1) Palm webOS introduces Palm Synergy™, which brings your information from the many places it resides into a single, more comprehensive view of your life.

The Palm Pre features a smooth, elegantly rounded ergonomic design and a physical keyboard that slides out only when needed, Palm Pre is engineered to feel natural in your hand and comfortably small in your pocket. When closed, Palm Pre is ideal for phone calls, web browsing, music, photos and videos; when open, Palm Pre is optimized for email and text messaging. With its curved slider and gesture-controlled touch interface, Palm Pre fuses exquisite design with the revolutionary Palm webOS software for fast access to content on the device or web.