NVIDIA VCM revealed for Tesla Model S
This week as the Tesla Model S electric car heads to its first real road release, it's been revealed that none other than NVIDIA's brand new VCM will be powering the car's dashboard. This dashboard is a set of intelligent screens, each of them running with an NVIDIA Tegra Visual Computing Module (VCM) behind the scenes. This Tegra processor will be bringing the graphics fury to both the 12.3-inch LCD and the 17-inch LCD that make up the car's control panel and information displays.
This push by NVIDIA sets them well within the automotive industry's heart, with CES 2012 revealing that their Tegra 3 processor may well be the brain of future Audi intelligent vehicles. Now the Tesla Model S is ready for this one big news blast before it hits the highway this Friday.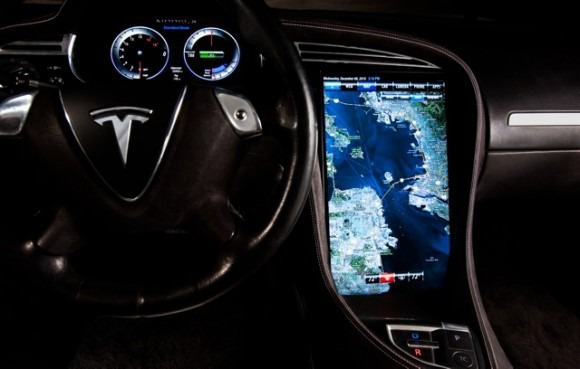 What you'll see inside the Tesla Model S powered by NVIDIA is both giant displays working with VCMs bursting with graphics power. The larger of the two screens will have primarily information regarding gas, speed, and car functions with next-level aesthetics making sure the look doesn't disappoint the power of the rest of the vehicle. The center console then is not one to play second fiddle, working with 3D graphics (more like 2D appearing to look 3D, not the glasses-necessary kind of situation).
Stay tuned as the actual beast gets released this week!