First Tesla Model S cars ready for delivery this week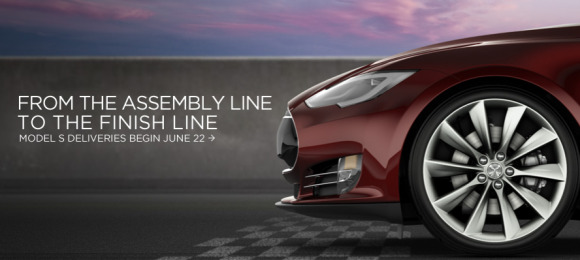 It has been a long road, but electric vehicle maker Tesla is set to ship its first Model S EVs as early as today. The first 10 Signature performance versions of the EV will be picked up by their owners at the Tesla factory in Fremont, California. These cars priced between $95,400 and $105,400.
The electric driving range for the Model S is 265 miles per charge and so far more than 10,000 people have made $5000 deposits to reserve one of the vehicles. While it's good news that Tesla is finally delivering the vehicles, the big question on the minds of some analysts is what happens after these 10,000 interested buyers get their hands on the Model S.
"Then what?" said Dave Sullivan, an analyst for industry researcher AutoPacific Inc. "Now everybody that wanted one has got one, where do they find the next 10,000?"
Tesla expects to start earning a profit next year with about 8000 Model S EVs sold. Tesla hopes to deliver 5300 Model S cars this year, including the significantly cheaper $57,400 base version of the car. Tesla is already planning its next model; an electric SUV dubbed the Model X. The company hopes to sell 35,000 total units of Model S and Model X vehicles in 2014. Tesla is also looking to the future with plans for a cheaper mass-market electric vehicle by 2015.
[via Bloomberg]