This week we're having more of a look at what NVIDIA and Ubisoft are doing to bring you the biggest next-gen games with the most optimized graphics in the business. In addition to bringing systems like HBAO+ for shadows, TXAA for super smoothness, and full-on 4K support for the lot of these games, they're giving them a boost with a "Pick Your Path" promotion that brings you one of the three for free. Just so long as you need a new graphics card, too.
Here's what each of the games will be getting – specifically, that is, from NVIDIA GameWorks technologies. If you want the best of the best in each of these bits and pieces, you're going to want to pick up something like the NVIDIA GeForce GTX 980. Newness.
Far Cry 4:
• HBAO+
• TXAA
• PCSS
• 4K support
• NVIDIA Godrays
• HairWorks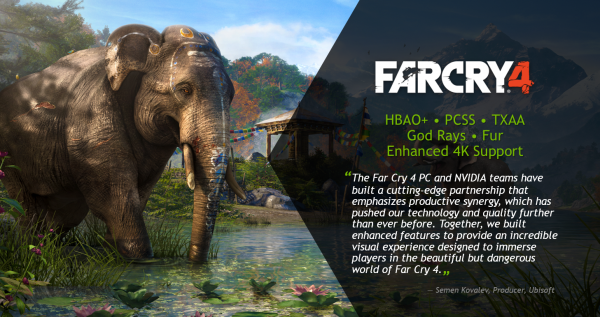 Assassin's Creed Unity:
• HBAO+
• TXAA
• PCSS
• 4K support
The Crew:
• HBAO+
• TXAA
• 4K support
As far as "Pick Your Path" goes, it includes the purchase of a GeForce GTX GPU, including a GeForce GTX 980, 970, 780 Ti, or 780 graphics card or a notebook with GeForce GTX 980M or 970M.
Once you do that, you get the choice of The Crew, Far Cry 4, or Assassin's Creed Unity to download and own for free straight from Ubisoft.