NVIDIA TITAN V: 5 features for scientists, researchers, and gamers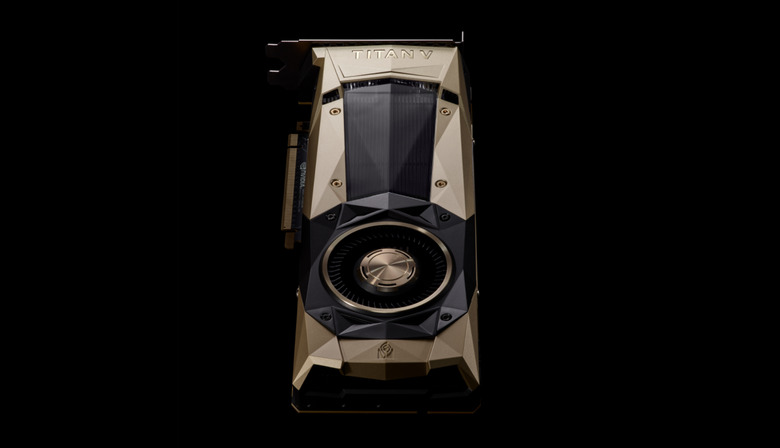 Today the NVIDIA GeForce GTX TITAN V was revealed as what the company calls The Most Powerful PC GPU Ever Created. Inside this machine is the newest in NVIDIA GPU architecture – that's NVIDIA Volta. Today we're going to break down this advanced piece of machinery into 5 simple parts. That begins with the most obvious bits and pieces right up front: Industrial Design.
1. Golden Industrial Design
Like all NVIDIA graphics cards, this TITAN V has a hearty, sharp look to it. Amongst the handsomest exteriors of PC cards made for graphics superiority, NVIDIA leads the pack. Another example of a beautiful piece of work NVIDIA's made recently is here: Star Wars TITAN XP.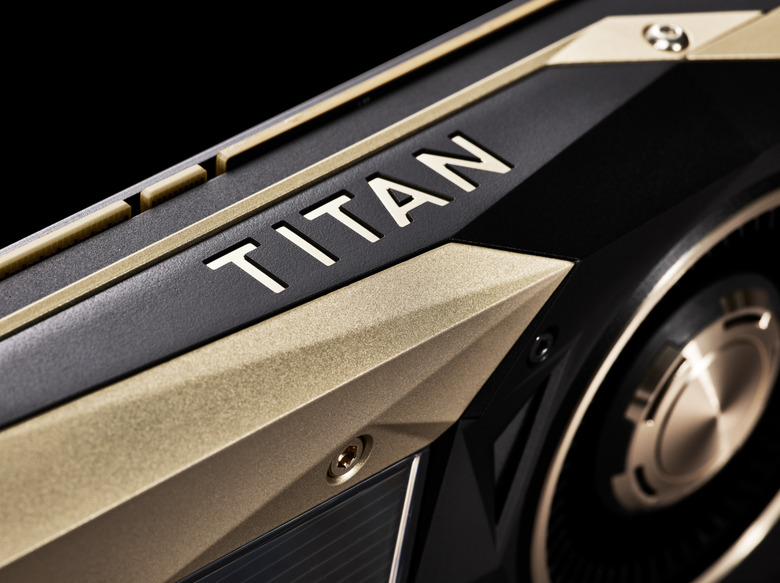 The TITAN V comes in a new gold die-cast aluminum. Not that you'll be seeing this GPU a whole lot, unless your PC is constructed in a way that allows you to see all of its innards. Just in case: NVIDIA is on point in the industrial design department.
2. Top-level Specs
Inside this card, users will find the newest NVIDIA Volta architecture paired with 12 GB HBM2 memory and 640 Tensor Cores. This GPU can perform at 110 TeraFLOPS – with 5120 CUDA cores, 640 Tensor cores, frame buffer at 12 GB HBM2, and a boost clock of 1455 MHz. The rest of the specs can be found in the chart below: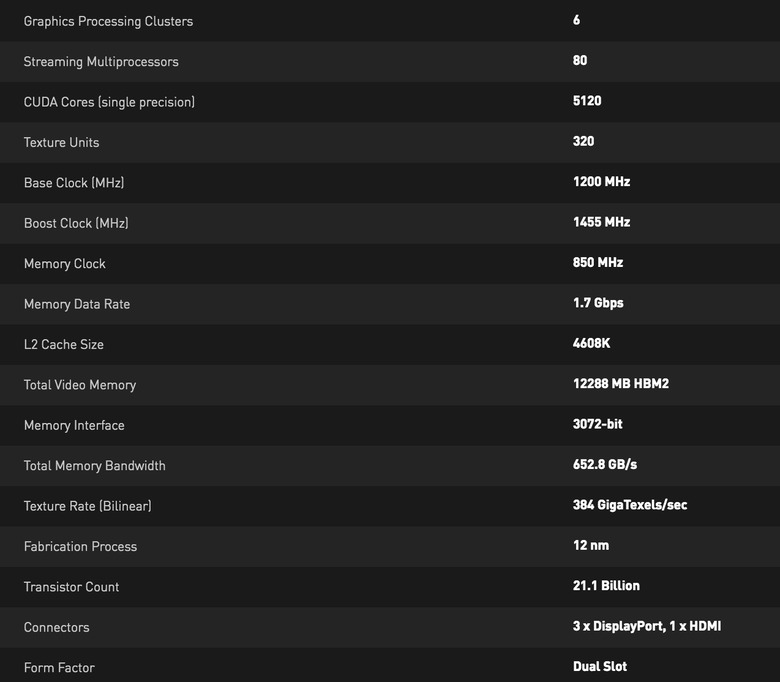 With 3D stacked memory, 21 billion transistors, and more TeraFLOPS than you've had in a GPU ever before, what are you going to do with this card? Run Crysis?
3. AI-optimized NVIDIA VOLTA
Volta is the newest NVIDIA GPU architecture, made specifically to compute artificial intelligence. "NVIDIA Volta is the new driving force behind artificial intelligence. Volta will fuel breakthroughs in every industry. Humanity's moonshots like eradicating cancer, intelligent customer experiences, and self-driving vehicles are within reach of this next era of AI."
Volta-optimized CUDA and NVIDIA Deep Learning SDK libraries are at the end users disposal. This includes cuDNN, TensorRT, NCCL – and while the end user is there, they might as well have a peek at the other tools available too: DeepStream (SDK), cuBLAS, and cuSPARSE. All of these are accessible through the NVIDIA Deep Learning SDK homepage. NVIDIA Volta was made for researchers and scientists who want to explore the future of AI and machine learning from their PC.
4. It could game, but it really shouldn't
Really this card is not made for gamers. It COULD be jammed into a gaming PC, and utilized, but it wouldn't exactly be optimized for gaming as, say, the Titan 1080, 1080Ti, or that Star Wars GPU mentioned above. If you had both that Star Wars Titan Xp and the Titan V right next to one another, you'd find both running on the same power, while the Titan Xp is around $1800 cheaper.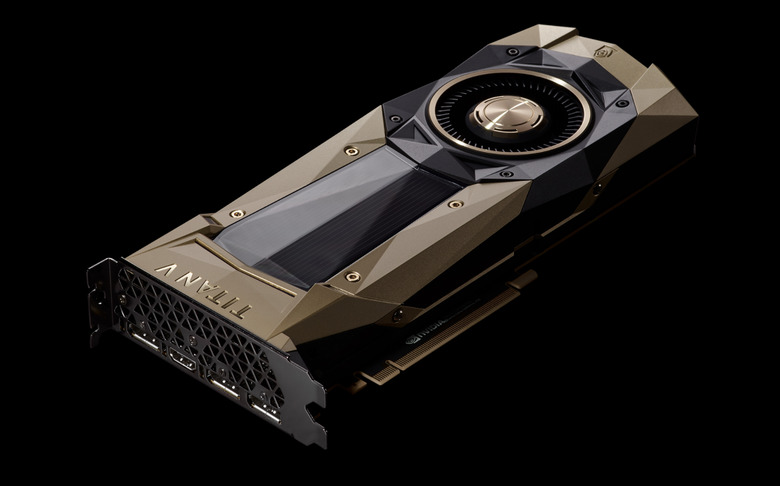 If you absolutely MUST buy this card for your gaming rig, know this: there's no SLI here, but it'll probably fit your big fat monster of a machine. We just won't probably be doing any of the same benchmarks we'd do on a more consumer-aimed card.
At the same time, we WILL see about framerates in Battlefront or Tomb Raider should the need somehow arise. For now we're completely content in leaving this card for the AI specialists. It's the graphics power that comes in the cards coming in early 2018 that we'll be looking at for the next generation of games and VR.
5. Pricing and Release Info
This GPU is available through NVIDIA online right this minute. Users will find each card available for $2,999.00, and there's a limit of 2 per customer. When this article is set to be published, shipping on this GPU is free. That's it!