NVIDIA Tegra takes on Atom: super-performance for smartphones & MIDs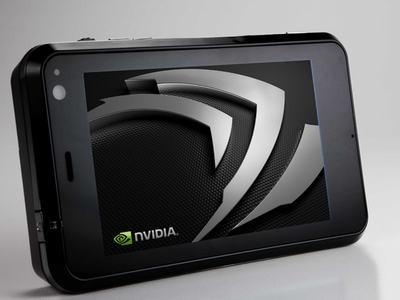 NVIDIA will launch its Tegra mobile processor brand at Computex this week, including demonstrating a new prototype based on the platform, according to mobile business general manager Mike Rayfield.  The range will include not only the APX 2500 which we first saw at MWC in February but two other processors aimed at Mobile Internet Devices (MID), the Tegra 600 series, running at 600MHz and 800MHz while consuming less than a single watt of power.  The ARM11-based 750MHz APX 2500 is capable of encoding and decoding HD video, as well as driving displays up to SXGA (1280 x 1024) resolution and cameras up to 12-megapixels.Check out our hands-on demo video of the APX 2500 Tegra prototype after the cut
According to Engadget, the first Tegra chipsets – which combine an 800MHz ARM CPU, GeForce GPU, image processor, HD video processor and other controllers in a dime-sized package – will be called the Tegra 600 and 650 and appear in products by Q4 this year and the first half of 2009.  They'll be capable of 1080p HDMI, WSXGA+ LCD or CRT, and NTSC/PAL TV output, with the power to run Quake 3 at 40fps with full filters and anti-aliasing.  One-tenth the size of Intel's Atom, battery life is practically unbelievable: 130hrs audio or 30hrs HD video on a single charge.
Back at MWC, NVIDIA confirmed that the platform was designed for use with Windows Mobile and Windows CE, but they're now saying that other OSes – such as Google's Android – would be equally at home with Tegra.  What the company is pushing, however, is the Windows CE-based GUI in the video above, which NVIDIA are making available to developers together with SDKs for the interface and hardware. 
NVIDIA expect initial Tegra systems to be handhelds or compact laptops, spanning a screen-size range of 4 to 12-inches.  QWERTY and/or touchscreen interfaces are both expected, as is WiFi and possibly 3G WWAN.  Even better is the predicted pricing: NVIDIA are saying $199 to $249.
Press Release:
NVIDIA TEGRA: THE HEART OF THE WORLD'S SMALLEST VISUAL COMPUTERS

SANTA CLARA, CA—JUNE 2, 2008—Today, NVIDIA brings visual computing to mobile internet devices (MID) with the launch of NVIDIA® Tegra™, a family of highly integrated computers on a chip. In addition to MIDs, the NVIDIA Tegra 650 and 600 processors will be used in a wide range of innovative platforms such as embedded PCs, web tablets and more. The NVIDIA Tegra 650 processor is the world's first computer on a chip for mobile visual computers. NVIDIA Tegra features a GPU, media processor, system memory, peripherals and a CPU all in one ultra-low power chip, smaller than a US dime (10-cent piece).

The NVIDIA Tegra 650 processor is the second product in the Tegra line, the first being the NVIDIA Tegra APX 2500 processor, which is enabling the next generation of Windows Mobile smartphones. "With the growing market demand for mobile Internet access, NVIDIA launched the APX 2500 computer-on-a-chip targeted at smartphones and handsets earlier this year. Recognizing that mobile Internet access usages will occur not just on smartphones and handsets but on compute devices as well, NVIDIA announced today their Tegra product line. Representing the first products to be targeted at the MID and portable device space, it is anticipated to bring integrated capabilities similar to the APX 2500 with NVIDIA's graphics expertise, an ARM core, HD video,and advanced power management," said Ian Lao, senior analyst at In-Stat.

This new processor features an optimized combination of an ultra-low power GeForce® GPU and an 800 MHz embedded ARM CPU, Due to their highly integrated design, NVIDIA Tegra processors achieve up to 10 times the power efficiency of existing products in battery-operated computer systems running compelling visual computing applications.

"As more consumers begin to access the mobile Internet with devices like smartphones and MIDs, device manufacturers will be challenged to create the same high-quality user experience on mobile devices that consumers currently enjoy on their desktop PCs," said Warren East, CEO, ARM. "Using advanced ARM technology and providing a ground-breaking mix of performance, power consumption and form factor, the NVIDIA Tegra mobile computer-on-a-chip addresses

this challenge more effectively than any other solution yet on the market, thereby taking a major step toward the oncoming mobile Internet revolution."

NVIDIA Tegra 650 also features:

• All-day media processing, for 130 hours audio, 30 hours HD video playback

• HD image processing for advanced digital still camera and HD camcorder functions

• Optimized hardware support for Web 2.0 applications for a true desktop-class internet

experience

• Display support for 1080p HDMI, WSXGA+ LCD and CRT, and NTSC/PAL TV-Out

• Direct support for WiFi, disk drives, keyboard, mouse, and other peripherals

• A complete Board Support Package (BSP) to enable fast times to market for Windows

Mobile-based designs

"With NVIDIA's Tegra processor line, we will continue to see impressive mobile innovations in Windows Mobile products," said Todd Warren, corporate vice president of Microsoft's mobile communication business. "Microsoft is dedicated to providing people best-in-class mobile experiences, so that people can carry a single device for work and play."

For more information on NVIDIA's processors, please visit www.nvidia.com