NVIDIA Tegra Note 7 stylus detail demo joins first full teaser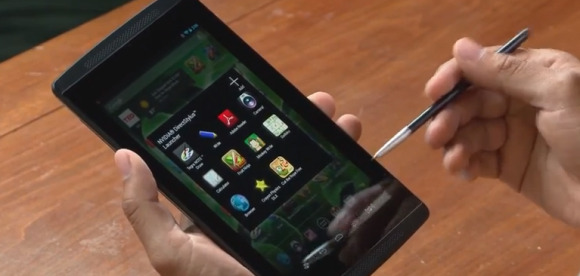 The NVIDIA Tegra Note 7 line of Android tablets is set to see the light of day just in time for the end of the year here in 2013, bringing with them a mix of graphics processing finesse and software-based stylus technology. Today a couple of videos have surfaced with NVIDIA speaking on the abilities of the tablet – an NVIDIA reference design, mind you, though the final manufactured versions will look extremely similar for consumers. The first of these demonstrations is done with what the company calls DirectStylus, working with a built-in pen.
At its most basic, you can compare the implementation of this stylus to that of the S Pen in Samsung's Galaxy Note universe of devices – down to the idea that when you unsheathe the pen from its holder in the tablet, you see a special menu appear for that pen specifically on the display. From there on out, it's a whole different [Tegra-based] ballgame.
The launcher that appears when you take the stylus out from the tablet can be customized – adding or taking apps out from this launcher is as simple as doing the same with a basic Android folder for apps. Once you're inside the basic writing app for the NVIDIA Tegra Note series of tablets, you'll find that writing is as unique as you make it. You can write, draw, cut and paste, take photos, and re-arrange as you see fit.
You'll also see the first Android-based demonstration of the app Camera Awesome as done with this particular pen. It's all rather familiar in its user interface, while the abilities of the app appear to be advancing even as it heads to the greater Android universe. You'll see an implementation of Google Cloud Print – available for all in Android 4.4 KitKat – allowing the ease in use of a signed document. Here you'll be able to see a form, sign it with your pen, and print it – easy peasy.
Also appearing this week is a rather slick ad spot teaser sort of video showing off the ins and outs of the device as it rests in NVIDIA's hands. We'll see this machine manufactured by a variety of manufacturers in the near future – this spot shows now the NVIDIA Tegra Note 7 at its most pure. You'll get a full refresher on how this device rolls with NVIDIA Tegra 4, a unique blend of Android and NVIDIA's partner app add-ons, and and DirectStylus technology.
You'll see a bit on the accessory end of things as well – as it is with the NVIDIA SHIELD, this device is optimized to work with the NYKO PlayPad Pro. This is the first of a series of 3rd-party wireless controllers NVIDIA has worked with specifically to tune for working with NVIDIA Tegra 4-toting Android devices for an optimum out-of-box experience. There's an "optional" Slide Cover appearing in this spot as well – slide back to three configurations to hold the tablet up for a variety of activities.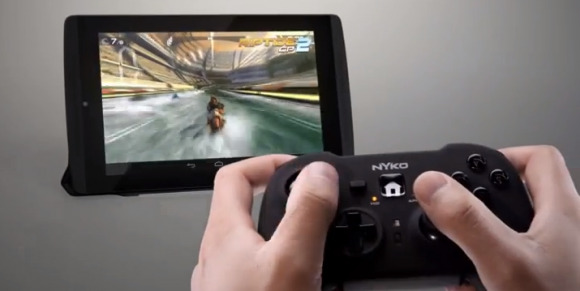 Have a peek at our NVIDIA Tegra Note tag portal for more on this emerging device and stay tuned as we give you the full run-down ourselves – more coming up!
VIA: NotebookItalia