NVIDIA Tegra 4 spec leak tips quadcore A15 in 2013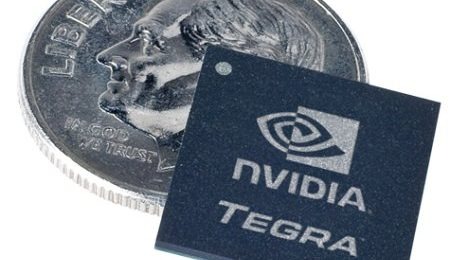 NVIDIA's next-gen Tegra 4 chipset has purportedly been detailed ahead of its expected 2013 release, using the same 4-PLUS-1 configuration as the Tegra 3 but with newer ARM A15 cores. The new chipset will run at between 1.2GHz and 2.0GHz, the slide shared by VR-Zone indicates, depending on whether the device it's inside is targeted at the mainstream or flagship markets, and presumably what form-factor – tablet, phone or something else – is adopted.
There will be three A15-based variants, the spec sheet indicates. The T40 will target 10-inch flagship tablets and run at 1.8GHz, while the T43 will have the same audience but be slightly faster, at 2.0GHz. The AP40, meanwhile, will aim for the mainstream, running at between 1.2GHz and 1.8GHz.

Then there'll be the Sp3X, using the older A9 cores – though still in 4-PLUS-1 configuration – but pairing the 1.2GHz to 2.0GHz chipset with an LTE and HSPA+ modem. It will come later to market, however; the T40 is expected to drop first in Q1 next year, though the other three variants supposedly won't arrive until sometime in Q3.
The switch to four A15 cores, if true, indicates NVIDIA has presumably addressed the question of excessive heat output. That heat, rivals like Qualcomm have suggested, was what prevented the Tegra 3 from using A15 cores: so far, we've only seen dualcore implementations of A15 promised, such as in Texas Instruments' OMAP5.
Whether quadcore is truly necessary for mobile devices or merely spec-sheet bragging remains to be seen; the new A15-based Tegra 4 may only really come into its own when in ultrabook-style notebooks, running Windows 8 on ARM and other more "desktop" platforms.
[via Android Community]