NVIDIA Tegra 4 makes pressure-sensitive stylus technology core-deep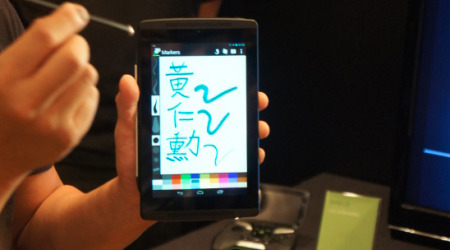 While the stylus-centric abilities NVIDIA is showing off this week at Computex were, up until now, only really available with devices like the Samsung Galaxy Note, here the Tegra 4 aims to make line width a GPU thought process. With the Samsung Galaxy Note, Samsung's specialized S-Pen made – and makes – it possible to write with pressure-sensitive real-time line widths, making digital artwork enter a new age on the hand-held smartphone and tablet. NVIDIA's Tegra 4 processor aims to execute a similar set of features, only this time making the processor itself sit at the heart, making it all manufacturer-agnostic.
The technology at hand is called NVIDIA DirectStylus, and it's aimed at the Tegra 4 SoC specifically. This technology allows Tegra 4-based tablets work with a fine-tipped passive stylus, allowing lines of various widths to appear based on pressure applied by tablet user.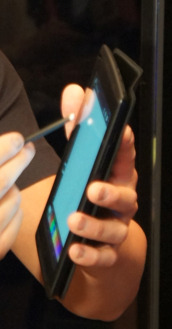 With NVIDIA DirectStylus, it'll be up to the end manufacturer of the tablet to implement this feature, but it is built in directly to Tegra 4 architecture. The Tegra 4 works with image-processing GPU-style, analyzing data sent by the tablet's standard touch sensor, deciding then both the pressure and, in a more general sense, what the device is that's touching it.
While users are able to work with this sort of technology inside the pen itself – an active 1.5 mm stylus would do the trick with a dedicated digitizer, NVIDIA's solution would require no special extra accessories to kick out the art. NVIDIA's implementation of this set of features works with Direct Touch 2.0 technology, this supporting a set of up to 200 scans a second to capture detail movement of your finger, a stylus, or anything in-between (that's "five times the typical 60Hz touch scan rate" according to NVIDIA).
NVIDIA's DirectStylus technology can also be used to, for example, use one end of your standard stylus to write and the other end to erase. It'll just be a matter of pairing the right tip to the right function.
Users can expect this technology to appear in tablets starting a bit later this summer. At the moment, this demo is being run in a developer platform tablet – unnamed, that is, and not something that'll be coming to the public for consumers. The real deal is coming sooner than later!
SOURCE: NVIDIA