NVIDIA shows massive Tegra 3 launch growth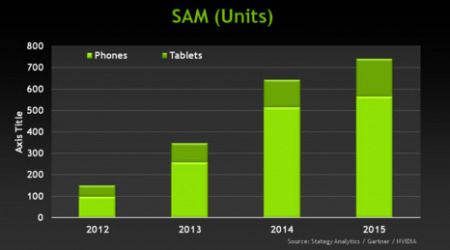 In an investor call this week with NVIDIA we're finding that there are more than a few surprises to be found in the mobile world – Android, gaming, Icera for LTE, and Tegra 3 included. NVIDIA Grey announced with Tegra 3 and Icera i500 chips combining in the next year to create devices that not only work with great processing speed, but amazing data speed as well with 4G LTE. NVIDIA let it be known that units being sold in the millions in 2012 was less than 200m, with 2013 already hitting 300m, then twice that again by 2015.
This growth rate takes on what we already know about NVIDIA as a dominant force in the tablet market and expands it rapidly in the smartphone business across the earth. NVIDIA announced earlier today that they'd be pushing 30 smartphones with Tegra 3 by the end of the year. That's by FAR the largest amount of devices they've ever pushed with Tegra in a year – and they dominated the tablet business last year with the Tegra 2.
Gray – the next level for Tegra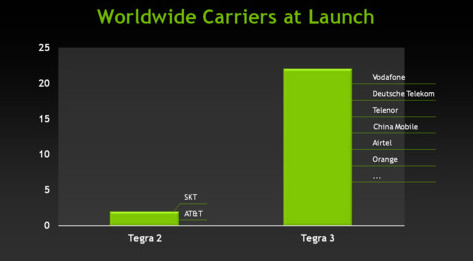 With Tegra 2 NVIDIA opened with two carriers worldwide – with Tegra 3, NVIDIA opens with more than 20. NVIDIA has "by far the strongest software system for graphics" as they say, here in the mobile world especially it seems. Have a peek at the timeline below to stay up to date with all the NVIDIA news announced today and stay tuned as the call continues!