NVIDIA SHIELD Tablet K1 Marshmallow update released today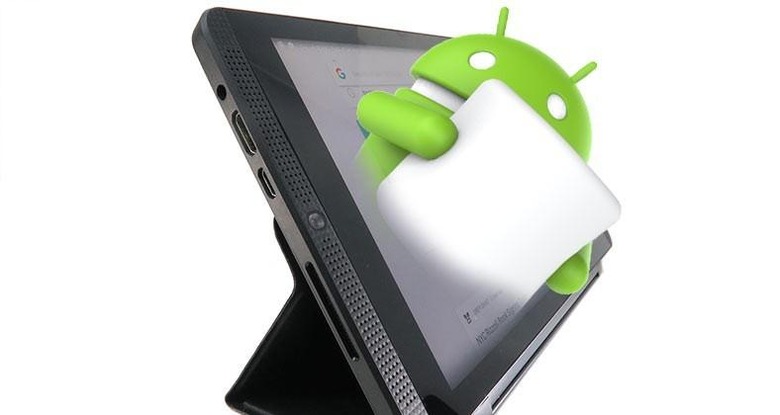 Starting this afternoon, owners of the NVIDIA SHIELD Tablet K1 will begin to see OTA updates to Android 6.0 Marshmallow. This version of Android is only otherwise out on the HTC-made Nexus 9 and the Google Pixel C (both of which also use NVIDIA processors). The NVIDIA SHIELD Tablet K1 will be getting a collection of feature upgrades including Google Now on Tap as well as adoptable storage, allowing users to tread microSD cards as internal storage.
For those of you that've been using SHIELD's move to SD functionality – no longer will you have to do such a thing. With adoptable storage, microSD cards are allowed to be integrated with main internal storage, which is then auto-managed by the system just as internal storage would be. When you first insert a microSD card into the tablet after upgrading, you'll see a pop-up that asks you what you'd like to do with that microSD card, using it as external storage, or integrating it as internal.
You'll have Google Now on Tap which allows you to see Google-sourced information about whatever is on your screen when you tap the Now on Tap button. Google's App Standby system is also switched on with this update, allowing you to automatically set an app into standby mode dependent on the last time you had it open and active.
Android 6.0 Marshmallow on NVIDIA SHIELD Tablet K1 includes a set of interface upgrades, starting with Google Now voice commands available from the the tablet's lock screen. Quick Settings menu now has the ability to re-arrange, and both home and lock screens have new wallpapers from NVIDIA.
There's a new NVIDIA SHIELD Camera app being launched with this upgrade, "with a user interface inspired by Material Design." Also according to NVIDIA's Jordan Dodge, "It brings improved burst photo functionality and adds new real-time HD image effects, accelerated by Tegra K1's Kepler-based GPU."
Above you'll see NVIDIA's presentation of Android 6.0 Marshmallow on the NVIDIA SHIELD Tablet K1.
We've reached out to NVIDIA to find out whether we can also expect an OTA update to Marshmallow for the original NVIDIA SHIELD Tablet as well – and/or when that update will arrive.