NVIDIA SHIELD prepared for pre-orders with full detail rush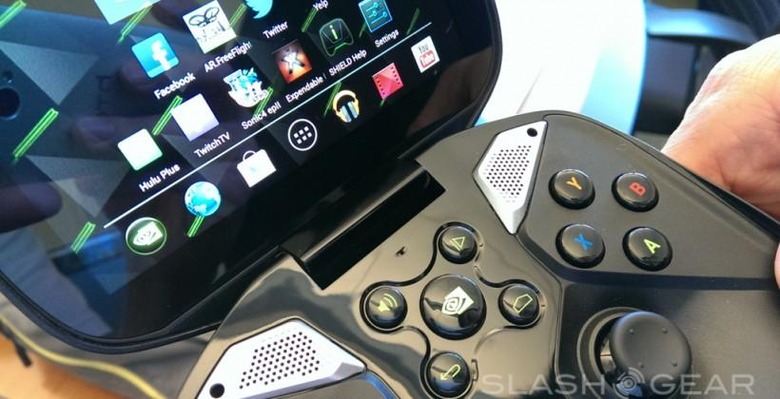 This week NVIDIA's Project SHIELD was revealed all over again, this time renamed simply: SHIELD, arriving as both the company's first handheld gaming device and hardware sold direct to end users, all at once. It is here that NVIDIA starts its journey in converging the worlds of mobile and desktop gaming with the Tegra 4 mobile processor on one end and GeForce graphics on the other. NVIDIA has announced today that SHIELD will not only be available in the US and Canadian markets starting in June, but that it'll be up for pre-order (for some) starting today.
If you've been following email updates about Project SHIELD straight from NVIDIA before today, you're in luck. Those signed up with the company as a gamer interested in the product as an early adopter will be given the first shot at the device.
A shot at ordering SHIELD as a pre-order, that is. The device itself will be the same, but these earliest pre-orders will be filled first – of that you can be sure.
Hardware
At the head of this device is the NVIDIA Tegra 4 quad-core A15 CPU with custom 72 code GeForce GPU. That's a mouthful, and we're certainly not going to try to explain the full ins and outs of it here. Instead you'll want to head over to the SlashGear 101: NVIDIA Tegra 4 in detail post we've prepared for an occasion just like this. In short: it's got so much graphics power it'll be good to go for years to come.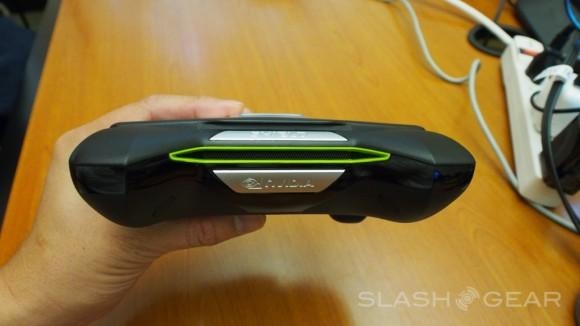 SHIELD works with a 5-inch 720p multi-touch display which flips-up from its hardware controller body. In this shell-opening form-factor, this device allows the user a gaming experience only otherwise given in part by 3rd-party accessories attached to smartphones. With NVIDIA's solution, the display is made specifically for this setup, while the controls, sound system, and form factor are all made with one final single product in mind.
With SHIELD, users will be working with integrated speakers – both a left and a right – along with two tuned ports for high-end bass response. Each time we've handled this machine thus far, the sound has been full and deep, with the ability to get loud enough that it's necessary to pull the volume back. Don't want to wake up the upstairs neighbors, after all.
NVIDIA has let it be known that the device has seen a few – not many, but some – changes between its reveal and its final form, that being the one we're having another look at here today. The device has had a tiny bit of weight added since CES 2013 several months ago – welcome, in this case, as this adjustment allows the device to feel the correct amount of substantial in a user's hands. The device remains largely plastic, but certainly looks and feels like a high-end product, as it should.
SHIELD will be available for a retail price of $349 USD right out of the gate. This price remains the same no matter how or through whom you'll be ordering it. Orders will be done through NVIDIA's own website and through NewEgg and Micro Center here in the USA. Canadian gamers will be able to pick the device up at Canada Computers as well.
Android / TegraZone Games
The device will be delivered with a couple games installed, NVIDIA's own game portal TegraZone – and that's it. This delivery essentially counts as a vanilla build of Android Jelly Bean, allowing users to work with as simple and recognizable – and customizable – an experience as possible.
Five new games have been promised for SHIELD and its high-powered processor backing up Android, each of them coming to Android here for the first time. Double Fine will be bringing the games Broken Age and Costume Quest. Broken Age is an epic fantasy tale set in the clouds with flying ships, computers, and oddities galore. Costume Quest is a game that's appeared on Windows PCs, PlayStation 3, OS X, Linux, and the Xbox in the past, coming to Android for the first time here to show the power of NVIDIA's Tegra 4 processor.
Above: SHIELD at CES 2013 hands-on with Android gaming (Hawken, specifically).
Flyhunter: Origins is a new Android game coming to SHIELD from the developers at Steel Wool Games. This game will deliver not only a strange miniature storyline, but high-class art as well – NVIDIA has specifically pointed out the lovely artistic abilities of the development group behind this game – bright and pretty!
Dedalord Games will be bringing Skiing Fred with a full free-movement system that will be entirely unique to SHIELD. Don't get caught in the drift! Developers at Niffler will be bringing Chuck's Challenge to life on SHIELD as a 3D puzzle game that allows users to create their own levels and share with friends.
Two high-powered Android games will be installed on the device out of the box: Sonic 4 Episode II and Expendable: Rearmed. We've had our own hands-on look at Sonic 4 Episode II back a few months ago in all its full super-speed glory while Expandable: Rearmed makes with the massive amounts of firepower.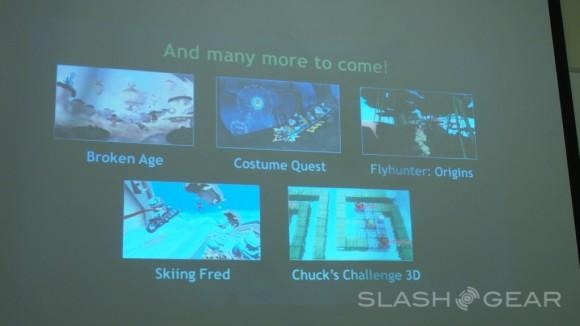 PC Connectivity with GeForce game streaming / Steam
Valve has joined the party as well for this device's PC connection. As SHIELD is made to bridge the gap between PC and mobile gaming on Android, Valve's own Steam gaming experience will be in play. Though GeForce game streaming will be launching as a beta feature, we've seen it in action more than once, and it looks pretty rad.
Users will need their own compatible PC and a WiFi network they can connect with to make any and all desktop gaming a reality on SHIELD, Steam included. Once this connection is made, Steam's Big Picture Mode is the user interface that SHIELD will use. With a healthy handful of PC games (20 games at first, we're told) optimized and prepared for this cross-device compatibility at launch, user's should have no problem finding a good title for which to game from their couch.
Controls for these games will be automatically fitted to SHIELD's own, allowing gamers to, for example, break into Borderlands 2 the first time they open it with the device. This set of games is not a limit for the device, of course, as SHIELD's controls are able to be fit to any game that'd otherwise be able to work with a controller connecting to your PC with, for example, a USB or Bluetooth connection.
Development
NVIDIA's SHIELD device will have more details revealed over the next few weeks, and of course the GeForce game streaming bit of this amalgamation will see mighty changes in the near future, but the main bulk of the device and its features are here. This device is a market-ready machine, and in it we'll be seeing the NVIDIA Tegra 4 in action out in the wild for the first time.
Have a peek at the brief timeline of SHIELD items we've collected in the recent past and hit SlashGear's Tegra hub for more information on NVIDIA's mobile universe. SlashGear's Project SHIELD tag portal will also serve to give you an exploratory look at the demonstrations and details that have emerged prior to today, as well.