NVIDIA SHIELD Gamepad Mapper released for all-game compatibility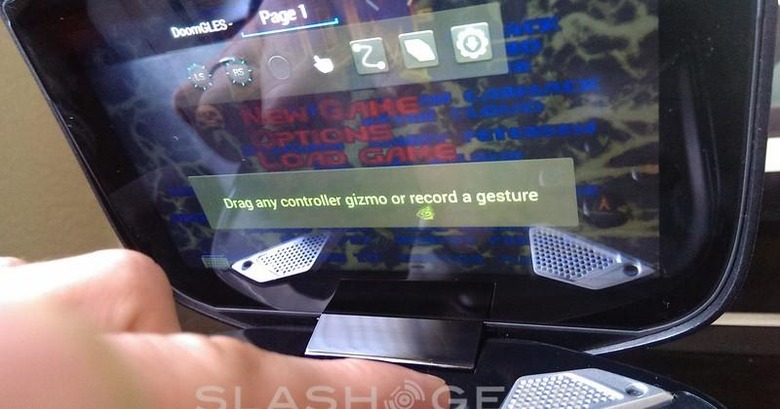 The NVIDIA SHIELD gaming platform just brought on a whole new level of expansion in both the Android and the PC streaming environments. This week with the release of the newest software update from NVIDIA, the device itself gains not only Android 4.3 Jelly Bean, but the addition of three relatively important features: Console Mode, NVIDIA GameStream (formerly known as PC streaming), and SHIELD Gamepad Mapper. The last of these was not revealed until today – a simple built-in ability to map hardware controls to each game uniquely.
The update in SHIELD Gamepad Mapper changes everything for this machine. Now the device is able to take even games that never before had hardware control abilities and changes them into a SHIELD experience. This feature allows users to create profiles for each individual game, save them, and even go so far as to share them with friends.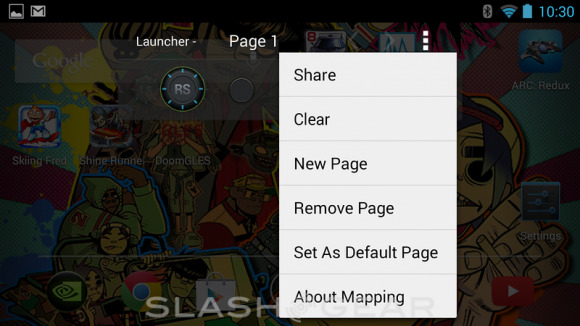 And if you're not all about creating profiles for yourself, there'll be a community of creators backing you up from the web. At launch, SHIELD Gamepad Mapper works with a variety of default profiles right out of the box.
A Space Shooter Blitz, Absolute RC Heli Sim, Absolute RC Simulator, Acceler8, Age of Zombies, Age of Zombies Lite, Amazing Alex, Amazing Alex Free, Amazing Alex HD, Anger of Stick 2, Angry Birds, Angry Birds Friends, Angry Birds Rio, Angry Birds Seasons, Angry Birds Space, Angry Birds Space HD, Angry Birds Space Premium, Angry Birds Star Wars, Angry Birds Star Wars HD, Angry Birds Star Wars II, Angry Birds Star Wars II Free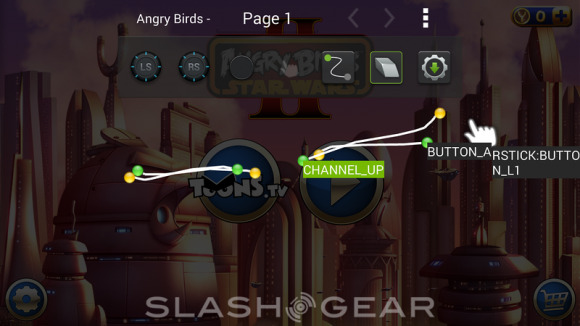 Angry Gran 2, Angry Gran Best Free Game, Angry Gran Radio, Active Run, Army Sniper, Avenger, Bang Bang Racing HD, Beat Hazard Ultra, Beat Hazard Ultra (Demo), Bike Extreme Free, Bike Race HD, Bike Striker, Bike Stunt Racing, BMX Boy, Bubble Witch Saga, Bunny Skater, Call of Duty Black Ops Zombies, Candy Crush Saga, Contra: Evolution, Crazy Snowboard, Crazy Snowboard Pro, CSR Racing, Dark Night Avenger :Magic Ride, DEER HUNTER 2014, DEER HUNTER RELOADED, Dirt Bike Pro Free, Drag Racing, Drag Racing 4x4, Drag Racing: Bike Edition, FIFA 12 by EA SPORTS, FIFA 14 by EA SPORTS, Fish Live, Flow Free, Fun Run – Multiplayer Race, Granny Smith, Granny Smith Free, Greet Fighting IV, Gunman Clive, Guns, Guns'n'Glory WW2, Helidroid 3D : Helicopter RC, Helidroid Battle: 3D RC Copter, Hill Climb Racing, Hockey Nations: Shoot-out, Homerun Battle 2, Hungry Shark, Hungry Shark – Part 2, Hungry Shark – Part 3, Hungry Shark 2 Free!, Hungry Shark 3 Free!, Hungry Shark Evolution, Hungry Shark Free!, I Must Run!, Ice Rage, ILLUSIA 2, Jetpack Joyride, LEGO Speedorz, Lep's World, Lep's World 2, Line Runner (Free), Line Runner 2 (Free), M.A.C.E. Free, M2: War of Myth Mech, MADDEN NFL 25 by EA SPORTS, Mahjong, MASS EFFECT INFILTRATOR, Minecraft – Pocket Edition, Moto X Mayhem, Moto X Mayhem Free, Mountain Bike Simulator, NBA JAM by EA SPORTS, Need for Speed™ Hot Pursuit, Need for Speed Most Wanted, PAC-MAN +Tournaments, Paradise Island, Pet Rescue Saga, PewPew, PewPew 2, PITFALL!, Raiden Legacy, Real Racing 3, Skater Boy, Slot Casino – Slot Machines, Sonic & SEGA All-Stars Racing, Stick Stunt Biker 2, Towelfight 2, Toy Truck Rally 3D, Truck Parking 3D, Zombie Terminator.
With Gamepad Mapper you'll be able to download profiles and make use of them with ease. The games listed above work automatically – they're just the first round of "default profiles" that'll be coming in waves each month with regular software updates to SHIELD – and they're miniature super-tiny in size, so no worries on how they'll be filling up your storage.
Stick around as we continue to detail the NVIDIA SHIELD updates today – feel free to bust out the NBA Jam (with built-in SHIELD Gamepad Mapper profile) while you're sticking!