NVIDIA SHIELD Black Friday Deal Trims Android Gaming Gadget By $50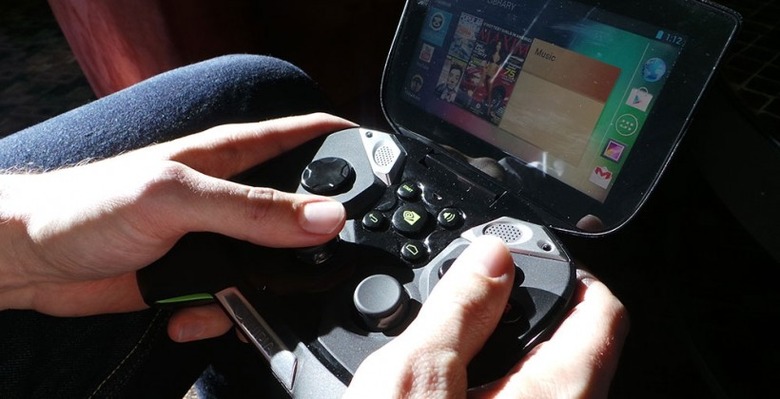 NVIDIA is redoubling its efforts to push its SHIELD portable Android console, kicking off a Black Friday weekend deal that trims another $50 off the cost of the handheld. The Tegra 4 powered clamshell – which allows for standalone play, as well as streaming gameplay from a PC with GeForce graphics – will be eligible for the cut if ordered before midnight Eastern on Monday, December 2nd, with some retailers also throwing in free accessories.
For instance, buy NVIDIA itself and there's a carrying case included too, along with free shipping. Gamestop isn't including the case, but is adding in a $25 gift card for Google Play.
Amazon will be cutting the same $50 from the sticker price, and the retailer already offers free shipping on it. NVIDIA tells us that "most other" retailers will be offering the price cut, along with the case and shipping promotion.
The deal will be offered from now to 11:59pm EST on Monday, December 2, and brings SHIELD down to $249.99. That's only slightly more than a PS Vita, Sony's gaming handheld, and strikes us as a pretty impressive deal given the capabilities of SHIELD.
As we found in our full review, SHIELD's strength is in its flexibility. On the one hand, it's a standalone system with a battery for wireless gameplay, capable of running any of the high-end games for Android currently available.
On the other, when paired up to a gaming PC, SHIELD turns into a remote for desktop game experiences. You'll need a a GeForce GTX 650 or higher GPU, Intel Core i3-2100 3.1GHz or AMD Athlon II X4 630 2.8GHz or higher processor, and at least 4GB of memory in your rig in order to use it, but once you've ticked those boxes it makes for an interesting experience.