NVIDIA kicked off Gamescom by revealing its new RTX 20 series GPUs. That reveal was accompanied by a number of impressive demonstrations, but as you might expect, NVIDIA didn't really get down to hard numbers and benchmarks. More specifically, it didn't really give us a good idea of how these new RTX cards compare to its current GTX 10 series lineup.
Today, the company changed that – sort of. While it didn't give us the treasure trove of statistics, comparisons, and benchmarks GPU enthusiasts undoubtedly want, it did give us a general idea of how the RTX 2080 stacks up against the GTX 1080. Have a look at the image below to see how the two compare.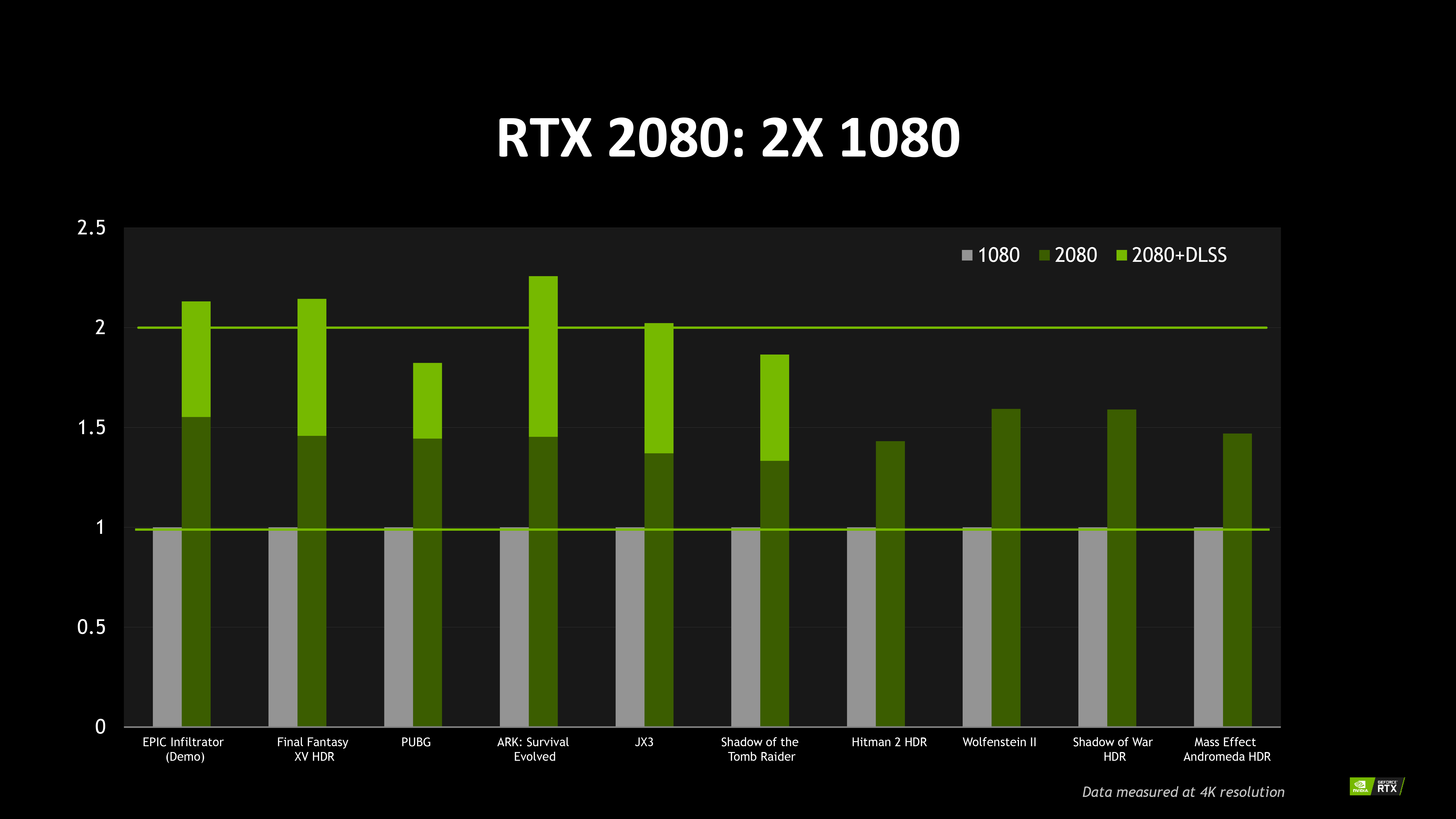 So, according to NVIDIA's metrics, the RTX 2080 is around twice as powerful as the GTX 1080 (note: this is the standard GTX 1080 we're talking about, not the 1080 Ti), but only when playing games that support deep learning super sampling. DLSS is a feature that, for the moment at least, is exclusive to RTX cards built on Turing architecture. As we saw yesterday, the list of games that have confirmed support for DLSS is pretty short.
In other instances, it appears that the RTX 2080 is around 1.5 times more powerful than the 1080. That's a fair increase in power, but it's clear that these new RTX cards are intended to be used to play games that support things like DLSS and real-time ray tracing. When you consider the price of these cards, it might not be a bad idea to hold off on upgrading until more games support those features, especially if you already have something like a GTX 1080 Ti in your rig.
Obviously, we'll want to wait until these graphics cards are subjected to real-word benchmarking and gaming in consumer PCs to make the final call on their capabilities. Still, it isn't hard to imagine an upgrade to an RTX cards becoming worthwhile for some as more games begin to support DLSS and real-time ray tracing. There's plenty more to learn about the new RTX 20-series, so stay tuned as we barrel toward the 2080 Ti and 2080's September 20 release date.