It's time for an update for all you gamers out there playing any of the newest round of ground-breaking NVIDIA-powered PC games, this GeForce 290.36 Beta Driver release correcting bugs and adding features you might never have known were there in the first place! NVIDIA lets us know that players of Batman: Arkham City, Elder Scrolls V: Skyrim, and Call of Duty: Modern Warfare 3, should certainly update to this newest driver set, and Battlefield 3 as well as Crysis 2 will receive fixes for tiny broken bits like the "random appearance of triangular artifacts" in the former game. Grab it now!
NVIDIA notes that this driver download enables NVIDIA Surround on the newest X79 SLI-certified motherboards and those of you with BenQ XL2420T and BenQ XL2420TX monitors can now get 3D Vision DisplayPort 1.1 connections natively. Ambient Occlusion is included for Skyrim and MW3, this feature activated in your control panel once you've got it all downloaded and loaded. Ambient Occlusion essentially means you'll have the best in-game shadow effects in the business. To get to this feature in your control panel, hit 3D Settings, Manage 3D settings, and find Ambient Occlusion (should be at the top) and set it to either Performance or Quality, then hit the Apply button.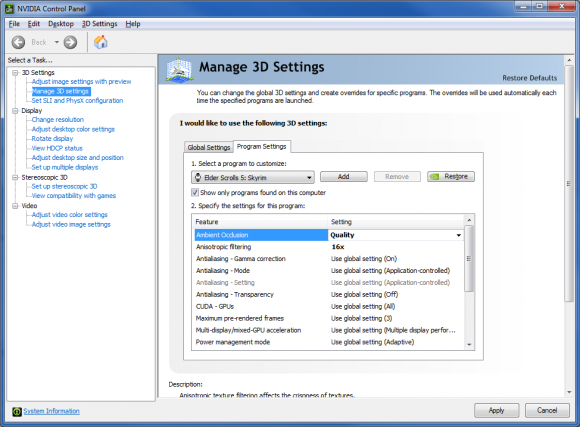 UPDATE: head to this NVIDIA slider page to see how the shadows will improve your experience in all places!
Of course this only works after you've got the new driver downloaded and attached, which you'll have to head to the Beta and Legacy Drivers page on NVIDIA to get. Once you've got it ready to go, have a peek at the full release notes here on what you've done to your computer. Only great things, only big hits! You're gonna love it!
NVIDIA Ambient Occlusion
• Adds NVIDIA Control Panel ambient occlusion support for The Elder Scrolls V: Skyrim.
• Adds NVIDIA Control Panel ambient occlusion support for Call of Duty: Modern Warfare 3.

NVIDIA PhysX
• Updates PhysX System Software to version 9.11.1107 for the best PhysX experience in Batman: Arkham City.

NVIDIA Surround
• Enables NVIDIA Surround support for Intel X79 SLI-certified motherboards.

NVIDIA SLI
• Added or updated SLI profiles for Crysis 2, Heroes and Generals, Inversion, Stronghold 3, and Syndicate.

3D Vision
• Adds support for 3D Vision over native DisplayPort 1.1 connection – available on BenQ XL2420T and BenQ XL2420TX monitors.
• Added or updated the following 3D Vision game profiles:
Call of Duty: Modern Warfare 3 – Rated Good
Cang Sheng – Rated Good
Diablo 3 – Rated Good
Fei fei – Rated Good
Final Combat – Rated Good
L.A. Noire – Updated Rating To 3D Vision Ready
LEGO Harry Potter: Years 5-7 – Rated Fair
Qian Nv You Hun Online – Rated Good
QQ Xi You – Rated Good
Sonic Generations – Rated Good
Xian Tu – Rated Good
Yong Bing Tian Xia Online – Rated Good

HD Audio
• Updates HD Audio driver to version 1.3.9.0.

Bug Fixes
• Fixes random flickering as Windows boot logo is loading or fading away.
• Fixes corruption in Crysis 2 with SLI and lower quality shadow settings.
• Fixes ability to set Surround resolutions to 5760×1080 using custom resolutions.
• Fixes some random instances of triangular artifacts when playing Battlefield 3.
• Fixes corruption and flickering of some objects in Battlefield 3 in the New York single-player level when anti-aliasing is enabled.
• Fixes corruption seen in Settlers 7 with the NVIDIA 275.33 drivers.
• Fixes playback of videos or live TV using Window Media Center resulting in a black screen.
• Fixes the issue where 1920×1080 @60Hz PC resolution mode switched down to @59Hz.
• Fixes mouse cursor flickering and shaking in Crysis 2, Battlefield: Bad Company 2, Deus Ex and Civilization V when SLI is enabled when using 3DTV Play.
Don't forget to check out our full review of Batman while you're down here, it's Battastic!