NVIDIA Project SHIELD unleashes Riptide GP 2 in sweetest demo yet
It's time again for some rip-roaring action with NVIDIA's Project SHIELD and the sequel to one of the most awesomely entertaining games on the Android gaming platform: Riptide GP 2! This game takes on what the original blasted forth with awesomely futuristic jet-ski racing made excellent by NVIDIA's team-up with the developers at Vector Unit for Tegra optimization. In this demo you'll also be seeing the Project SHIELD implementation of NVIDIA Tegra 4 quad-core processing power with visual splendor popping up on a whopping 72 GPU cores.
The demo you're seeing here shows one of two different types of futuristic gaming action you'll be able to experience on Project SHIELD. While you'll also be able to do streaming gaming from your GeForce-toting PC on your own wireless network, this demonstration is working with pure Android. This game will be released by the time the Project SHIELD hardware becomes available – soon and very soon!
According to NVIDIA, a collection of Tegra 4-specific features are appearing here in addition to the hot-powered action you'll get outside of the NVIDIA environment. While you'll be rolling hardest with this game on Tegra 4-toting smart devices, as with the original Riptide GP, you'll still be able to (eventually) rock and roll with this game on most Android devices. Of course with a Tegra 4 processor you'll be getting the best of the best!
• Full 3rd Party Controller Support
• Enhanced Water and Particle Effects
• HDR Lighting
• Boosted Reflection Shaders
• All-New Spectator Mode with Project SHIELD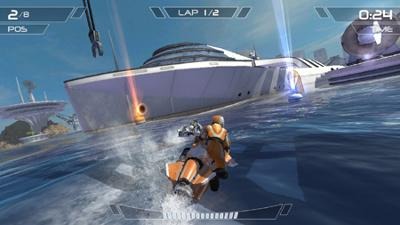 So get pumped up – and have a peek a the timeline below for additional demonstrations of the hardcore power of Project SHIELD as well!
[via NVIDIA]