Vector Unit brings Beach Buggy Blitz to TegraZone and hands-on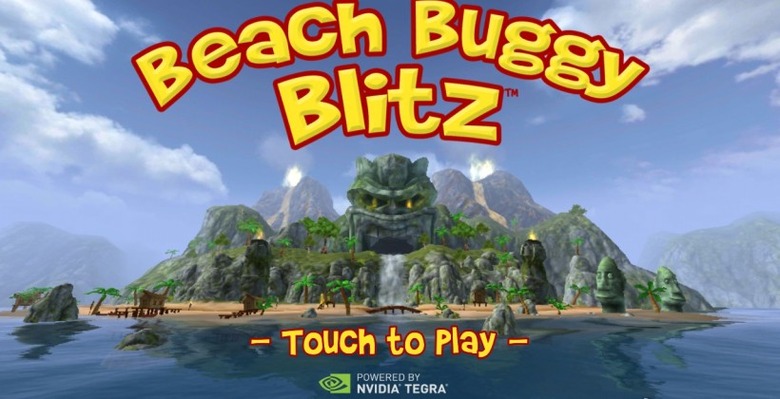 Get down and dirty with the newest game from Vector Unit, the developers who brought you hits like Riptide GP and Shine Runner – starting with all devices running NVIDIA's Tegra 3 quad-core processor and Android. This beast of a game, Beach Buggy Blitz, bring you in deep with another awesome racing game with heavy physics coming at you from all angles. You'll see lens splashes, dynamic highlights around all the edges, and motion blur galore.
This game has you blasting forth in a buggy that's customized by you in a race not against physical enemies – not in a traditional sense – but time itself. Collect coins to gain more time in your clock and make sure you're not out in the middle of nowhere when the buzzer rings. Once you've collected enough coins, you can spend them on upgrades from the shop – and you can trick your car out to the max, as well. The entire game consists of you moving forward into excellence while you destroy all manner of explodable objects.
[vms cf426067cfd2246bb5ff]
Of course there's a bit of real-time shadow rendering as well – and it's all so simple: you'll be running this fantasy of effects on your quad-core processor-toting Tegra 3 device straight from the TegraZone today! This game has both been announced and released by Vector Unit in collaboration with NVIDIA, and we want YOU to get into it. In addition to the hands-on experience you're about to have in this video, you'll be invited to a giveaway of ours later this week.
UPDATE: It appears that there's been a delay in releasing this game to the Google Play app store and TegraZone for now, but stay tuned as it's delivered soon!
That's right, you're going to want to write this one down: later today on both SlashGear and Android Community we're having a Beach Buggy Blitz event that'll be lasting several days – and you're going to want to get involved! For the time being though, have a peek at the hands-on video above and check the game out on the TegraZone right now, or head straight to the Google Play app store immediately if not soon to pick Beach Buggy Blitz up for yourself. It's not to be missed.