NVIDIA Project SHIELD pilots a Parrot AR.Drone quadcopter

The folks at graphics company NVIDIA have been seen piloting a mobile-friendly quadcopter device this week with their own upcoming Project SHIELD Android handset. Project SHIELD is NVIDIA's first in-house all-NVIDIA piece of hardware made for the consumer market and will be pushed to the public later this year, while the device it was spotted controlling has been out for some time: the Parrot AR.Drone 2.0. This Parrot device is one notoriously mobile device-friendly and was originally built to be controlled by the Apple iPad.
This update to the Parrot AR.Drone user experience will bring on hardware controls to Android, this being what we can expect as the cross-over to similar Bluetooth-friendly controls in the near future as well. With Project SHIELD, users will end up being able to work with a bit more of a unique experience with the unobstructed display not offered on any other platform. If you work with the Parrot AR.Drone on your smartphone, your controls are on-screen.
With Project SHIELD, you're able to utilize this quadcopters on-board camera with Project SHIELD's 5-inch display, allowing you to feel much more like you're onboard the flying machine with physical controls outside your camera view. This demonstration by NVIDIA points toward a unqiue app update for Project SHIELD by Parrot in the near future.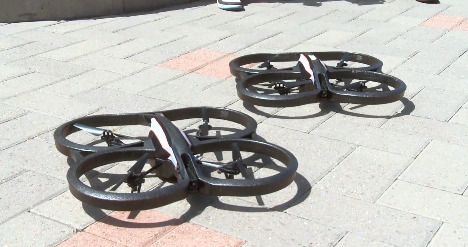 Have a peek at the timeline below to see more information on NVIDIA's Project SHIELD and make sure you're tuned to SlashGear's Tegra Hub for an expanded view of what the processor inside this device is capable of. We'll have more information on Project SHIELD in regards to release time and price in the near future – stay tuned!