NVIDIA MCP89 and MCP99 Ion-successors headed to Apple in Q1 2010?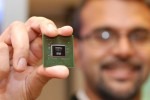 It looks as though NVIDIA and Apple may have kissed and made up after GPU issues soured their business relationship.  According to Digitimes' sources, the Cupertino company will use NVIDIA's upcoming MCP89 and MCP99 chipsets for Intel-based notebooks when they launch in Q1 2010.  The MCP89 is known to be the successor to the well-received GeForce 9400M (aka the NVIDIA Ion).
As for the MCP99, however, little is known about the upcoming chipset.  What's predicted is that it will be designed to accompany Core i5/i7 Nehalem-series processors, together with their 32nm Westmere successors.  A further MCP85 for AMD-based notebooks has also been tipped.  NVIDIA declined to comment on the speculation.