NVIDIA Ion platform: Atom plus GeForce 9400M for full-HD netbooks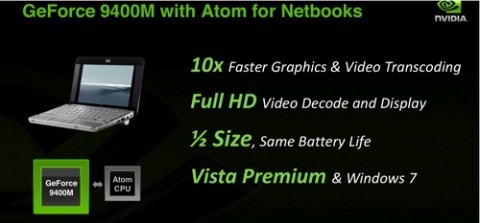 NVIDIA have unveiled plans to add extra graphics capabilities to Intel Atom powered netbooks, using a new, full-HD capable chipset.  The so-called Ion platform comprises the company's new GeForce 9400M graphics chipset with Intel's Atom processor, replacing the typical Intel GMA 945 chipset and improving graphics and video transcoding by a factor of ten.
Ion will also allow netbooks to run more intensive operating systems, such as Windows Vista Premium and Windows 7.  It will also open the door for models with HDMI outputs, capable of pushing out high-definition content. 
To demonstrate Ion, NVIDIA have put the platform into a nettop reference design.  The Pixo-ITX Reference PC will go on show at CES 2009.  While exact pricing has not been made public, NVIDIA expect it to add around $50 to the cost of  netbook.