NVIDIA Ion 2 confirmed for 2009 launch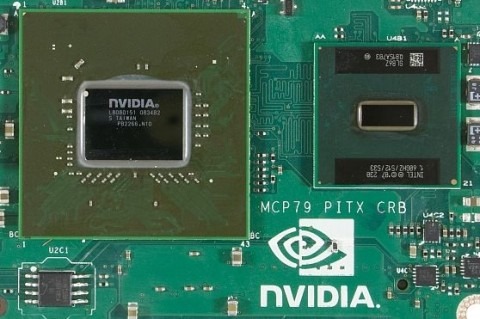 NVIDIA have confirmed that they plan to launch their second-generation Ion 2 chipset sometime in 2009, after rumors of such plans circulated in early July.  According to Fudzilla the confirmation came from NVIDIA's head of chipsets, with the Ion 2 expected to deliver a smaller die, far faster graphics and many more shaders.
Ion – otherwise known as the GeForce 9400M chipset – has seen inclusion in netbooks and nettops, delivering 1080p high-definition graphics performance to Intel Atom based devices.  Ion 2, meanwhile, will support Pentium 4 compatible CPUs, such as Atom, together with the VIA Nano.
NVIDIA announced yesterday that it would be freezing development of further chipset investments for Intel DMI CPUs, because of ongoing legal battles with Intel regarding licensing.  That will mean that Ion 2 is unable to support Arrandale Core i5 processors, since they are DMI based.