NVIDIA GeForce GTX 800M to make notebook gaming realistic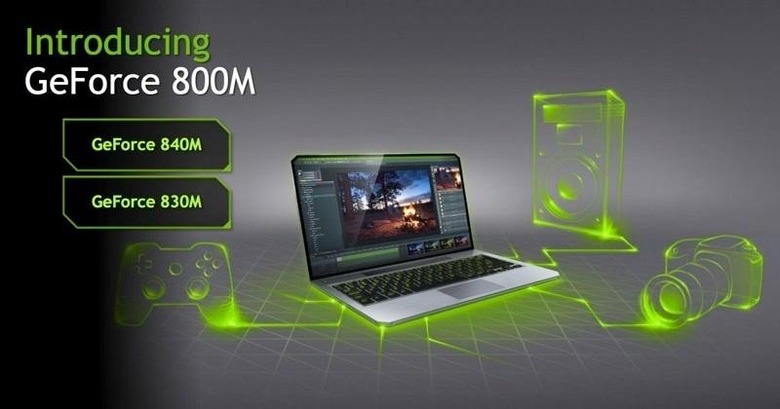 This week NVIDIA has introduced a series of gaming notebook GPUs, starting with the NVIDIA GeForce GTX 880M. This series also includes the GTX 870M, 860M, and 850M, and will be ushering in an era in which notebook gaming doesn't just mean you're able to sit on a plane for a half hour before your machine dies of heavy gaming action. This series works with a feature NVIDIA calls "Battery Boost", not to put too fine a point on it.
Battery Boost will bring gaming on a notebook with an NVIDIA GeForce GTX 800M-era GPU to a place where you'll have twice as much time to play unplugged as in the past. While we'll have to wait and see with our own tests in the field, NVIDIA suggests that this double-time will also be initiated automatically.
With the NVIDIA GeForce GTX 800M series, users will have access to ShadowPlay for game recording and GameStream for game streaming to Twitch. This system also continues to push the NVIDIA GeForce Experience for gaming optimizations and ultra-simple updates for graphics drivers. This is the same setup we've been working with on high-powered gaming PC towers for an age, at this point.

NVIDIA is hoping to drive home the point that this era of gaming notebook graphics cards – and therefor systems – are much smaller by showing off an Alienware notebook from 2011. Even our 2012 Alienware M17x R4 Review shows essentially how massive a gaming notebook had to be not that long ago to retain high-end performance. You'll find here that a more recent gaming notebook with a GTX 850M inside is far, far thinner.
The team at NVIDIA also suggests that this GPU will be 30% faster than the GTX 580M delivered in 2011, and will be able to play high-end games at 1080p with ease. With the 880M and 870M, games will be able to be played with 1080p and Ultra settings, while with the 860M and 850M, users will be working with 1080p and High settings.
We'll see soon which notebooks this series will be hitting first. Until then, dive into SlashGear's NVIDIA GeForce GTX tag portal for more!