NVIDIA GeForce GTX 700M aims to make gaming notebooks powerful and portable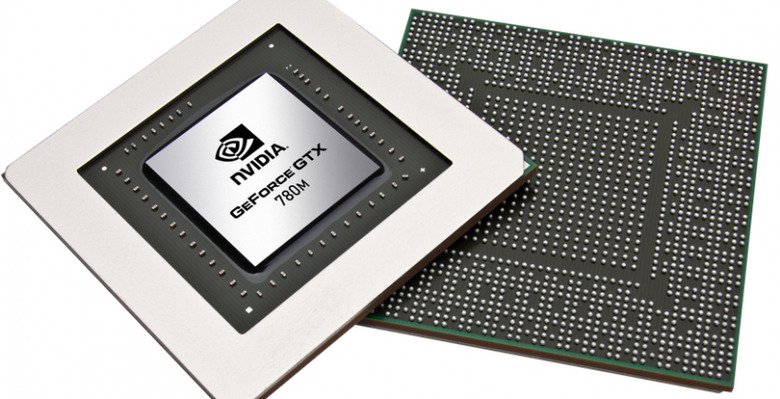 This week the folks at NVIDIA have unveiled several high-powered graphics cards to advance the world of desktop gaming, the tiniest of these being the GeForce GTX 700M notebook GPU. A family of four cards is being shown here, each of them with a slightly different build for different kinds of gaming setups. The builds of the devices coming with NVIDIA's technology inside as part of this next wave of gaming notebooks will be small, too – dashing the past in which "big and heavy" were required in order to have enough power to speak of in a "gaming laptop".
Each of the cards introduced here in NVIDIA's new notebook line are, as they say, "Kepler top to bottom." This means technologies like Boost 2.0, SLI, and top-of-the-line power. NVIDIA is making clear their intent to be part of the world's most portable gaming notebooks, starting with the Razer Blade, a notebook revealed earlier today packing a GeForce GTX 765M.
The GeForce GTX 765M is a step up from the least powerful of the four cards in this family. Also included is the 760M, 770M, and 780M. The difference between these cards begins with the number of CUDA cores that sit under the hood. While both the 765M and 760M both work with 768 CUDA cores, the 770M starts in with 960 cores, and the 780M sweeps the rest with 1536 cores.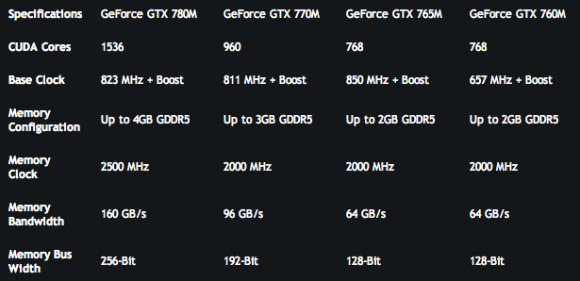 Above you'll see a break-down of how each of these cards is different from the next: base clock speed, memory and all. You'll be working with 1080p Ultra settings if you've got a 780M working for you, while a 760M will deliver 1080p High – the differences will be slight, but they'll definitely be there.
These cards will be employing NVIDIA Optimus technology, allowing high performance graphics processing while battery life remains sustained. Optimus was created by NVIDIA at seeing IGPs deliver good battery life while failing to show GPU performance and graphics up to modern standards. With Optimus, NVIDIA is delivering a fully-automated battery optimization system that dynamically switches between the notebook's IGP and dedicated NVIDIA GPU.
Pricing and release details for the 700M series for notebooks will be appearing soon. Stay tuned as additional notebooks begin to appear with NVIDIA's next-generation graphics solutions under the hood – you might even be able to fit a gaming notebook in your backpack before summer is over!