NVIDIA GeForce GTX 600M GPUs bring Kepler to ultrabooks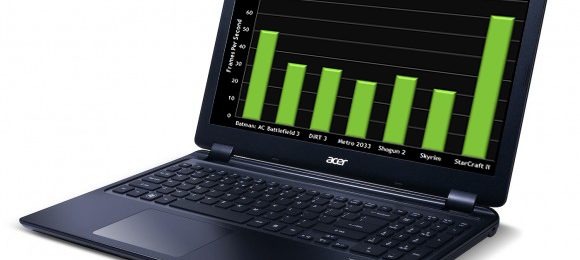 It's not just desktops that get NVIDIA's new Kepler 28nm GPU in the shape of the GeForce GTX 680; notebooks can also get a shot of that extra graphics grunt, courtesy of the new GT 600M family. NVIDIA's new range of laptop GPUs will debut in the Acer Aspire Timeline Ultra M3, with a seven-strong range of chips promising anything from 48 to 384 CUDA cores, up to 64 GB/sec memory bandwidth, and double the gaming frame-rates of last year's GT 520M-based notebooks.
Meanwhile performance compared to integrated graphics is up to a tenfold improvement, NVIDIA claims, despite no huge impact on battery life. The Acer ultrabook, for instance, will run for up to 8hrs despite toasting 500M-series based notebooks like Alienware's M15x.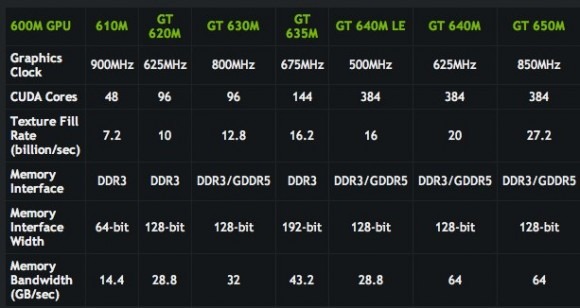 Games can thus run at higher frame-rates, or they can match the old GPUs and invest power in greater detail to the graphics. There's support for DirectX 11 tessellation, hardware PhysX, NVIDIA Control Panel Ambient Occlusion, NVIDIA Control Panel FXAA, and NVIDIA 3D Vision, while those who do plenty of image processing can expect roughly half the crunching time in popular apps like Adobe Photoshop and vReveal.
Meanwhile, NVIDIA is promising day-of-launch availability of game-specific drivers so that eager players can get the very best performance from the get-go. Acer, ASUS, Dell, HP, Lenovo, LG, Samsung, Sony and Toshiba are all signed up to use the new GT 600M GPUs, with first availability "soon" according to NVIDIA.