NVIDIA GeForce GTX 560 debuts at $199, plus beta R275 uber-drivers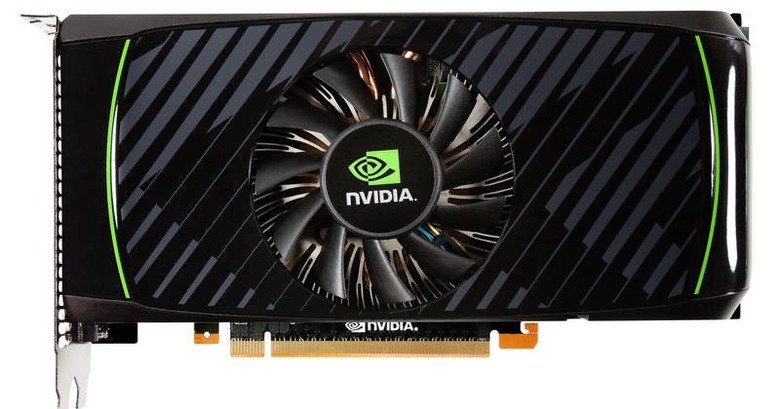 NVIDIA has outed its latest video card, the GeForce GTX 560, slotting into the competitive $199 price segment and offering 336 CUDA cores, an 810-950MHz graphics clock and 1620-1900MHz processor clock, along with 1GB of GDDR5 memory with a 256-bit interface. Meanwhile, NVIDIA has also released its new beta GeForce R275 drivers, promising boosted performance across various games and new 3D Vision support for more than 525 new titles.
The GTX 560 supports OpenGL 4.1 and 3D Vision, of course, as well as DirectX 11, PhysX and 2-way SLI. It has two dual-link DVI-I ports and a Mini HDMI 1.4a as standard, and can drive a display at up to 2560 x 1600 resolution. NVIDIA reckons it's ideal for running – with two cards – 5670 x 1080 resolution ultra-wide games using NVIDIA Surround.
The first third-party NVIDIA GeForce GRX 560 cards are available now, from partners including Gigabyte, ASUS, MSI and PNY. The new drivers, meanwhile, can be downloaded from http://www.geforce.com/ today.
Press Release:
NVIDIA Introduces New GeForce GTX 560 GPU and Faster GeForce R275 Drivers

GTX 560 Is Perfect Companion for Upcoming Summer Blockbuster PC Games Featuring Support for NVIDIA PhysX, Surround, and 3D Vision Technologies

Click here for a video sneak peek at Duke Nukem Forever, Alice: Madness Returns, and RIFT, all running on the new GeForce GTX 560 GPU!

The new GeForce GTX 560 brings awesome performance and functionality to this summer's hottest PC games.

SANTA CLARA, CA — (Marketwire) — 05/17/2011 — NVIDIA today introduced the GeForce® GTX® 560 GPU, the latest addition to the company's Fermi architecture-based product family, which brings amazing performance and enhanced features such as NVIDIA® PhysX®, 3D Vision™, SLI® and Surround™ technologies to this summer's hottest PC games.

Starting at $199 USD, the GeForce GTX 560 joins its big brother, the previously launched GTX 560 Ti GPU, in delivering an awesome gaming experience in its price class for games running at 1080p, the world's most popular gaming resolution, according to Valve's Steam Hardware and Software Survey(1).

NVIDIA today also released beta GeForce R275 drivers. They bring increased performance and enhanced functionality to a broad spectrum of PC games, including 3D Vision support to Duke Nukem Forever, PhysX support to Alice: Madness Returns, and Surround support to Dungeon Siege III.

Highlights of GeForce R275 Drivers:

Performance boost across a variety of games, including Crysis 2 (6%), Bulletstorm (15%), and Portal 2 (8%)(2)

NVIDIA Update technology now includes SLI profiles

Improved desktop scaling experience with new user interface and features

Improved resizing experience for HDTVs

More than 525 3D Vision gaming profiles, including new additions for Portal 2, Duke Nukem Forever, Age of Empires Online, Assassin's Creed Brotherhood and Dungeon Siege III, among others

New 3D Vision Photo Viewer with Windowed Mode Support

Support for more than 65 3D Vision Ready displays, including desktop monitors, notebooks and projectors.

The GeForce GTX 560 GPU is available starting today from the world's leading add-in card partners, including ASL, Asus, Colorful, ECS, EVGA, Gainward, Galaxy, Gigabyte, Innovision 3D, Jetway, Leadtek, MSI, Palit, Point of View, PNY, Sparkle, Zotac and others. GeForce R275 drivers are available directly from www.geforce.com or from the driver download page on nvidia.com.

For an in-depth look at the GTX 560, and to view a special video with footage from this summer's hottest PC games of the year, please visit: http://www.geforce.com/#/News/articles/560-game-previews/.