NVIDIA's driverless car computers just got a nervous system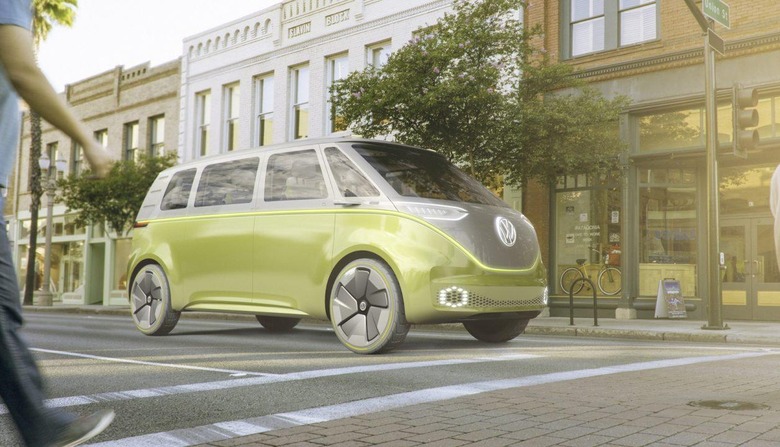 Self-driving cars aren't just going to shake up road systems, but automotive architecture, with NVIDIA and Aquantia announcing a new, super-high-speed connectivity system designed for driverless data. The pair have confirmed that NVIDIA's DRIVE Pegasus and DRIVE Xavier AI platforms for autonomous vehicles will be used Aquantia's Multi-Gig networking, in order to keep up with the huge flow of information between sensors.
"Each autonomous vehicle is a moving, self-contained data center, powered by an energy-efficient AI supercomputer that you can hide in the trunk," Gary Hicok, senior vice president of hardware development at NVIDIA, points out. "To achieve a safe self-driving experience, we require secure, reliable, redundant Multi-Gig networks to move vast amounts of data."
That network will be a 10 Gbps ethernet connection, which NVIDIA and Aquantia have designed to minimize latency between the multiple components a driverless car will need to integrate. For example, it'll be the pathway to feed NVIDIA's latest DRIVE AI platforms with data from LIDAR laser scanners mapping the roadway around the vehicle in 360-degrees, as well as camera vision sensors helping differentiate between pedestrians, cyclists, and more. It's the sort of workload that a traditional CANBUS simply isn't designed to keep up with.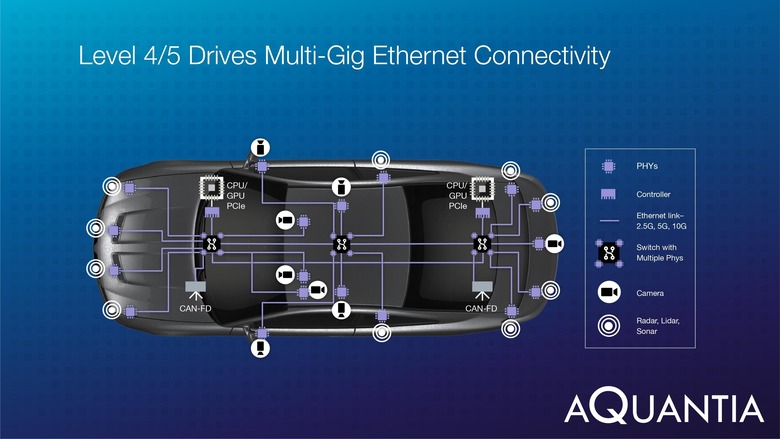 It's also the sort of connection that you don't want to have go wrong, or experience lag. "Vehicle sensors and cameras collect huge amounts of data that need instant processing to allow the vehicle to make critical decisions that ensure the safety of the driver, passengers, and anyone else sharing the road," Faraj Aalaei, Chairman and CEO of Aquantia Corp, highlights. As Level 4 and Level 5 autonomous vehicles shift the driver from hands-on watchdog to just another passenger, a secure and fast way for systems to intercommunicate will be vital.
It's not just speed, mind. Although 10 Gbps ethernet will certainly be fast enough to support the bandwidth requirements of multiple LIDAR, cameras, radar, and other sensing technologies, autonomous vehicles will also demand redundancy if they're to be considered road-safe. On the one hand that means things like secondary motors to control steering actuators, and a whole second set of core processing systems.
However, it'll also need to be redundant in terms of interconnects. That way, should something go wrong with the primary system, there'll be a backup to fall back to so that the car can be brought to a safe halt for repair. Aquantia's argument is that, while relatively new for automotive purposes, Multi-Gig Ethernet over copper is an established standard in computing, which gives it an edge over rival options.
The first NVIDIA DRIVE Xavier and DRIVE Pegasus computers featuring the Aquantia Multi-Gig networking will be shipping to the chip-maker's automotive partners in Q1 2018. Announced earlier this month at CES 2018, Xavier is NVIDIA's latest autonomous car "brain": two of the new SoCs will be found inside each DRIVE Pegasus AI platform, along with a pair of custom GPUs. NVIDIA has said that over 25 different companies are already using its DRIVE hardware for self-driving vehicles, though it's also pitching the technology for in-car artificial intelligence agents and augmented reality experiences.