NVIDIA Can NVISION 2009 Conference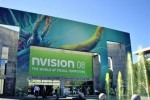 According to a Digitimes report, NVIDIA have canceled their yearly NVISION conference in an attempt to save money.  While no statement has been made either on NVIDIA's site or the NVISION blog (which hasn't been updated since the 2008 event), it's believed that the current economic situation is dissuading would-be attendees from registering.
NVISION 2009 was planned for the third quarter of 2009, the follow-up to the first NVISION conference held in August last year.  Keynote topics included virtualization, parallel processing and game development, while workshops looked at PC hardware optimization and staged the longest non-stop LAN party.
According to NVIDIA, several smaller forums will be organized to take place in the Fall.  It's unclear what budget had been set aside to host NVISION 2009.