Numark N4 four-channel DJ controller shipping now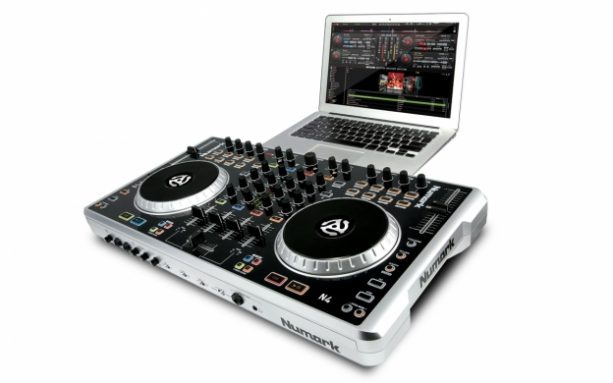 You digital maniacs of music can dash out to the online store right this second and unload because Numark has officially started shipping their N4 four-channel DJ controller with built-in mixer and timecode. This beast has more capabilities and features "than any other controller in its class" along with high-resolution 14-bit MIDI for responses so tight you'll have to loosen your belt a bit. And with the price this unit is selling at, you'll have to put your eyeballs back in your head before you start tapping and turning, believe it!
This device has four decks of software control as well as a mixer that works without or with a computer in tangent. The N4 comes with Serato DJ Intro software as well as a four-deck version of none other than Virtual DJ LE, and is created "with the mobile DJ in mind," so says Numark Product Manager Chris Roman. Up top there's a collection of large touch-sensitive panels, four decks of software control with looping and effects controls, and a USB audio interface with a massively comprehensive mixer section with gain and EQ.
External sources galore are supported including but not limited to external turntables, CD players, MP3 players, and compatible smartphones. You're able to switch between four deck of software to two decks of software and two channels of external source on this new standard for four-channel DJ controllers in this class. Once this device shows up in your local retailer you'll be seeing it hit for MSRP of $699 and an estimated street price of $499. Find a retailer of this beast now with Numark's retail locator or simply call up your favorite store and have em bring it in!