nubia Alpha bendable smartphone wristband launching this week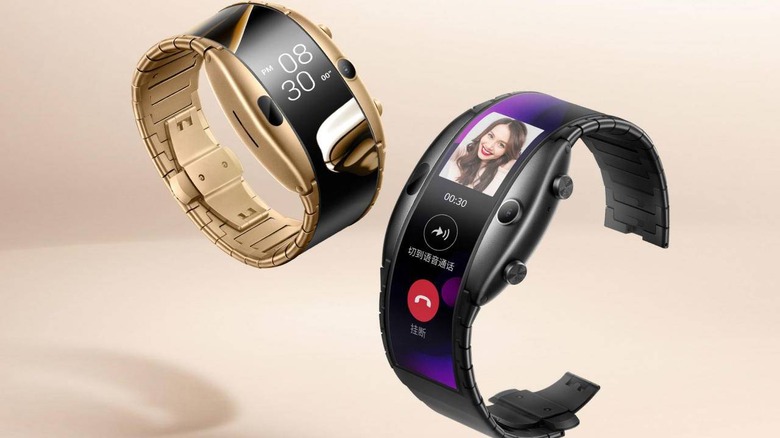 Samsung's and Huawei's foldable phones aren't coming until next month at the earliest but nubia's bendable phone might already beat them to the punch. Granted, the nubia Alpha from ZTE's now independent sub-brand isn't really competing in the same space. Rather than a ridiculously tall smartphone that can wrap around your wrist, it might be better to think of the nubia Alpha as a wristband that has a smartphone built-in.
Unlike the morph concept that Nokia envisioned a decade ago, the nubia Alpha can't really be used as a traditional smartphone, even if you can stomach using a 4-inch screen with a 5:1 ratio. It can't lay flat, for example, and always curved like a Samsung Gear Fit. Its flexibility comes into play when wearing the device, much like how the bands of a watch flex and bend to conform to the shape of the wrist.
Inside, the nubia Alpha is also more like a standard smartwatch than a smartphone. It runs on an ancient Qualcomm Snapdragon Wear 2100 with 1 GB of RAM and 8 GB of storage. Curiously, it makes a throwback to the smartwatches of old and includes a 5 megapixel camera.
It does, however, run a customized full version of Android that nubia calls the a (alpha) OS instead of Android Wear. This, according to the company, allows it to support full versions of some popular messaging apps like WeChat.
The nubia Alpha smartwatch, as the company insists on calling it, will launch on April 10 in China for 3,499 RMB ($520) for a stainless steel black band and 4,499 ($670) for a gold-plated version. The device supports eSIM cards which may make its international availability a bit tricky.