NTT DoCoMo Windows 7 smartphone F-07C gets official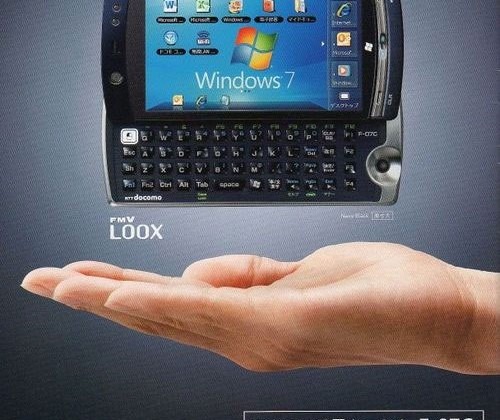 The number of smartphones on the market today continues to grow at a very impressive rate. It seems like each time you check the news, there are a few more smartphones coming to the market. With all the smartphones that are available to users, makers and carriers need to do something to set their devices apart from the others out there. A smartphone called the F-07C that is branded as the Fujitsu Loox has surfaced, and it has an interesting feature that sets it apart from the masses.
We have talked about the F-07C smartphone before when its specs were leaked. The device is now official and will be landing on NTT DoCoMo in Japan. The official launch date and the official price aren't noted. The specifications, however, are now official (PDF). The F-07C smartphone measures 125 x 61 x 19.8mm and weighs 281g. It will last 600 hours on 3G standby and 400 hours on GSM standby. The talk time is 370 minutes on 3G and 440 minutes on GSM. The smartphone will also support memory expansion with microSD cards.
The rear camera is a 5.1MP unit with face-detection and autofocus. The front camera has a resolution of 320,000 pixels. The key feature is the Symbian and Windows 7 OS' on the smartphone. The device has Windows 7 Home Premium SP1 in 32-bit Japanese version and 32GB of storage. The battery is good for two hours in Windows 7 mode, it has WiFi, and Office Personal 2010 installed. The smartphone has GPS, mobile wallet capability, Bluetooth, and the screen is touch sensitive. It will operate on GSDPA/HSUPA networks. The processor is an Intel Atom processor at 1.2GHz and it has 1GB of RAM.
[via NTT DoCoMo]