Fujitsu Loox F-07C smartphone specs leak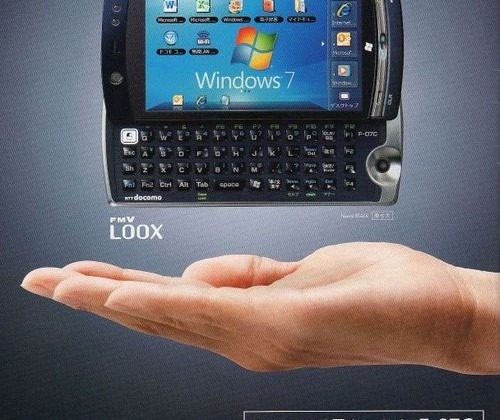 We love it when the specs of a future device leak and a new leak has turned up today. This leak is for a new Fujitsu smartphone/UMPC and came by way of a print brochure for the device that somehow hit the open market. The smartphone in question is called the Loox F-07C and the coolest thing about it is that it runs dual operating systems. The smartphone has both Windows 7 and Symbian OS' onboard. If you thought it would be cool to have a Windows 7 on your smartphone, this may be the device for you.
The image you see above is the scan from that print brochure. The Windows OS puts this more into the UMPC category than a normal smartphone. The device measures in at 125mm H x 61mm W x 19.8mm D and it has a 4-inch screen with a resolution of 1024 x 600. The processor inside the smartphone is an Intel Atom Z600 at 1.2GHz and the GPU on the smartphone is an Intel 600 GMA with Direct X 9.0.
Storage of the device is to a 32GB SSD, and it will accept microSD cards with up to 32GB. The main camera on the device is a 5.1MP unit with what is presumably a front camera with 1.7MP resolution. It will operate on GSM, FOMA/3G networks, and it has WiFi and Bluetooth as well. Other features include a micro USB port, audio jack, proximity sensor, light, A-GPS, and more. Its battery will last 350 hours in standby on phone mode and 1.6 to 2 hours in Windows 7 mode. Pricing and availability are unknown.
[via Pocketables]