Now You Can Stream Facebook Video To Your TV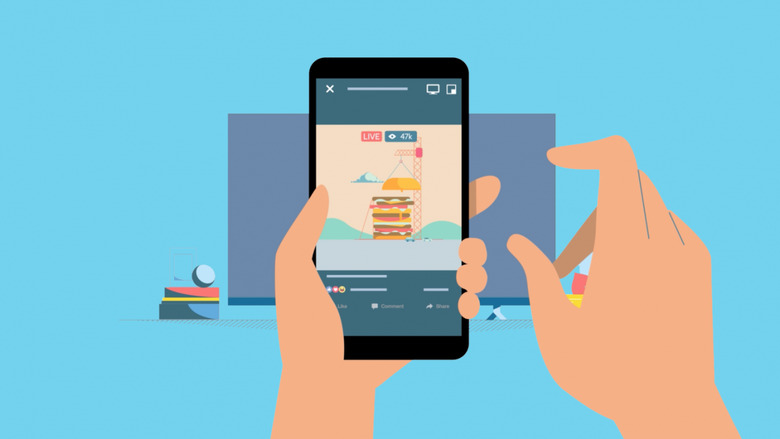 Facebook has been doubling-down on streaming lately, pushing election debates and more to its addicted audience, and now the social network is adding casting support to your TV. The update allows Facebook to hook up wirelessly to one of a number of set-top boxes or dongles – including Apple TV and Chromecast – and it works both from the mobile app and the browser. The goal, Facebook says, is to broaden the number of ways you can watch video content shared by your friends on the service.
Of course, given the increasing controversy over the US election process, plenty of those videos might be to do with Donald Trump or Hillary Clinton. Still, there should be a fair number of cat clips too, or the short cookery tutorials that appear to have taken Facebook by storm in recent months.
Whatever the video, the process to cast them will be the same. You'll need either an Apple TV or a Google Chromecast initially, and for the moment either Facebook in the browser on your PC or Mac, or on an iOS device. Soon, Facebook says, it'll support casting from Android devices to Chromecast as well.
When you're watching a video you want to stream to your TV, there'll be a TV symbol in the top right corner. Tapping that will bring up a list of devices that support casting; picking one will automatically connect with it, and the selected video should resume on your TV. It supports both prerecorded clips and Facebook Live videos.
While casting is taking place, meanwhile, the same device that's hosting the stream can be used to browse through the Facebook news feed. It also works as a way to control what clip is played next. Comments and reactions to Facebook Live videos are shown on-screen, and casting viewers will be able to react themselves from their device.
Obviously wireless video casting isn't new – Apple has been doing it for some time with AirPlay, and Google with its Cast technology. Now, though, it's another sign of Facebook's intention to break out of the browser or app, and expand to another in-demand display in the home. While average TV watching time may have been eaten into by smartphone and tablet use, it's still a significant part of daily life for many.
NOW READ: How Facebook plans to supercharge the Internet
Of course, at the same time it also gives Facebook another opportunity to boost its video audience metrics. Those took a hit in September, when the social network admitted that it had inflated them to advertisers. Zuckerberg's company confessed it had been working out its average viewing time numbers based on videos that had been watched for more than three seconds.
Footage seen for less than that time was ignored, artificially pushing the average up. Facebook said that it had corrected the error in calculation, and that no advertisers had been overcharged.