Now you can have custom Apple Watch faces too, somewhat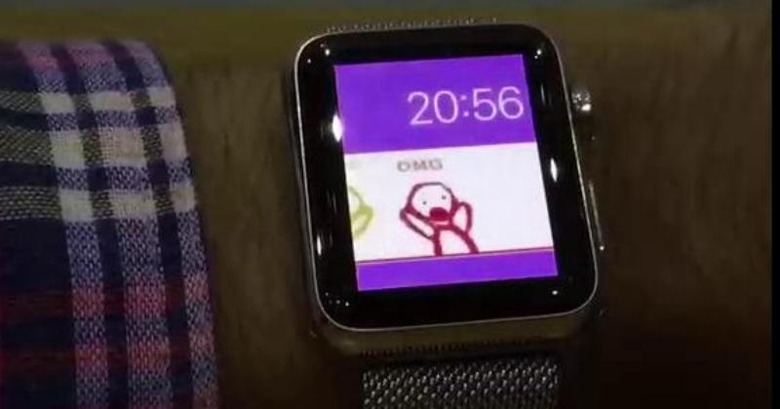 Just like the iPhone, customization on the Apple Watch isn't the most gratifying experience for tinkerers and would-be designers. Apple exercises a tight grip over the user experience on the smartwatch, and perhaps it is justified in this case. That said, just like the iPhone, people are going to find ways to get around those limitation. Like programmer Hamza Sood, who just revealed on Twitter something a lot of users are probably dreaming of: getting a custom watch face to work on their not so inexpensive Apple Watch.
To be clear, this is the perfect example of what a hack is (not the security cracking kind). An unofficial, unsupported, but totally fun way of getting around limitations, whether technical or formal. Apple has disallowed third party watch faces that doesn't have its blessing, but, as this proves, the smartwatch is technically capable of supporting such things.
In his video example on Twitter, Sood demonstrates switching to a custom "Onoz Omg" meme watch face. More than just the animated characters and dizzying colors, the watch face allows users to select their choice of psychedelic colors.
After some haxx... Custom watch faces on Apple Watch! Watch face source code is on GitHub: https://t.co/7ZvOz8nK34 pic.twitter.com/nQGJKlp6kt

— Hamza Sood (@hamzasood) August 18, 2015
Sood was kind enough to provide the source code for his custom watch face, perhaps spurring others to let their creativity go wild. Of course, it does require a bit of programming know-how in order to use. Then there's the chance that Apple might roll out an update that will block such third party customizations. At least until that happens, Apple Watch owners might be able to enjoy a bit of frivolity in the meantime.
SOURCE: @Hamza Sood