Notion Ink's Adam Tablet Official Website Released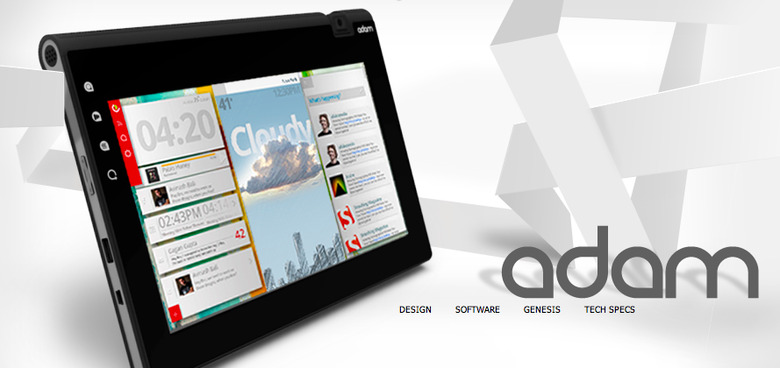 Notion Ink Adam has it's own brand new webpage at http://www.notionink.com/. And it seems to be a giant improvement over their first teaser site which was all in Flash – this one's layed out NICE and everyone can see it. On the front page there it is, the Adam, with tags "Developers, About, Blog, and Contact" along the top and "Design, Software, Genesis, and Tech Specs" along the bottom. Take a look at the entire webpage spread out before your eyes and imagine the pad right there, right in your hands, all awesome, all totally awesome.
Inside the Design Tab you'll find the following:
The Philosophy

It is only the second time since beginning, that math and instinct have come together to create, Adam.

There are three schools of design. The organic – which mimics shapes from nature. The Retro – which tries to modernize familiar ideas of the past. And then there's us – "The Geometric". We firmly believe that everything should flow in perfect arithmetic harmony, where all the lines and curves follow the laws of the Golden Rule.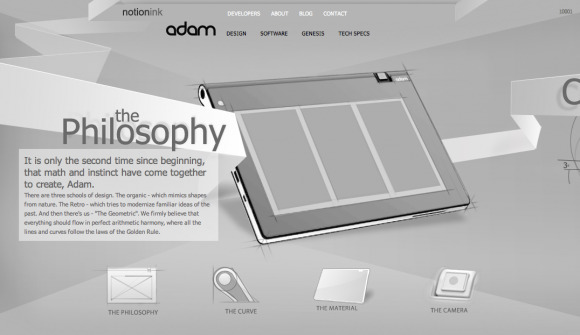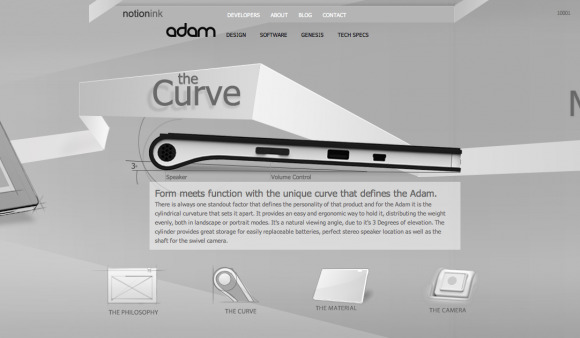 The Curve

Form meets function with the unique curve that defines the Adam.

There is always one standout factor that defines the personality of that product and for the Adam it is the cylindrical curvature that sets it apart. It provides an easy and ergonomic way to hold it, distributing the weight evenly, both in landscape or portrait modes. It's a natural viewing angle, due to it's 3 Degrees of elevation. The cylinder provides great storage for easily replaceable batteries, perfect stereo speaker location as well as the shaft for the swivel camera.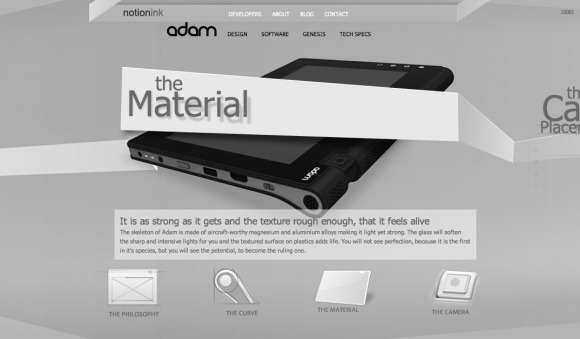 The Material

It is as strong as it gets and the texture rough enough, that it feels alive

The skeleton of Adam is made of aircraft-worthy magnesium and aluminium alloys making it light yet strong. The glass will soften the sharp and intensive lights for you and the textured surface on plastics adds life. You will not see perfection, because it is the first in it's species, but you will see the potential, to become the ruling one.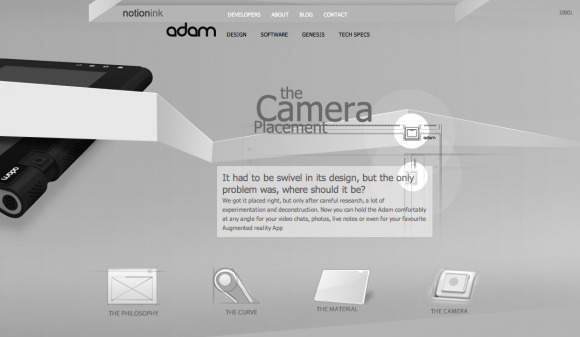 The Camera

It had to be swivel in its design, but the only problem was, where should it be?

We got it placed right, but only after careful research, a lot of experimentation and deconstruction. Now you can hold the Adam comfortably at any angle for your video chats, photos, live notes or even for your favourite Augmented reality App
Then, in Software you'll find this video:
In Genesis you'll find another very similar video that instead just gives you this sort of logo thang: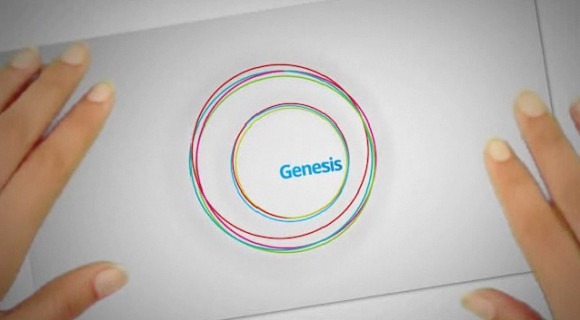 And in Tech specs you'll see the following: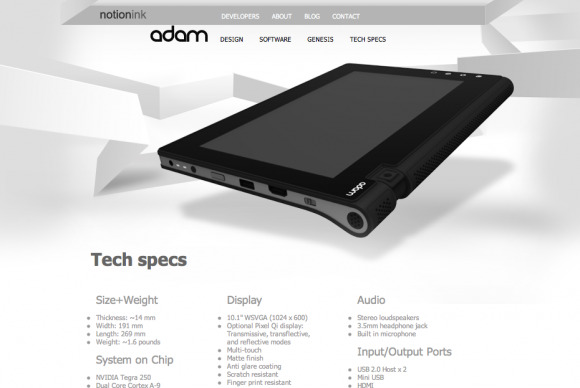 Tech specs

Size+Weight

Thickness: ~14 mm

Width: 191 mm

Length: 269 mm

Weight: ~1.6 pounds

System on Chip

NVIDIA Tegra 250

Dual Core Cortex A-9

ULP GPU

Memory+Storage

1GB DDR2 RAM

1GB SLC

8+ GB Flash

Micro-SD Card support

Power & Battery

Universal Charger

3 cell 24.6Whr battery

Display

10.1" WSVGA (1024 x 600)

Optional Pixel Qi display:

Transmissive, transflective,

and reflective modes

Multi-touch

Matte finish

Anti glare coating

Scratch resistant

Finger print resistant

Camera

3.2 MP Auto Focus Swivel

Camera

Communication

WLAN – 802.11 b/g/n

Bluetooth 2.1 A2DP

WWAN – 3G HSDPA

Audio

Stereo loudspeakers

3.5mm headphone jack

Built in microphone

Input/Output Ports

USB 2.0 Host x 2

Mini USB

HDMI

Micro SD slot

SIM Card slot

DC connector

Sensors

3-Axis accelerometer

Ambient light sensor

GPS

Digital Compass

Bonus mystery feature
Of course, those of you looking through the source code of the webpage at this point are treated to a secret message that reads "For any sneaky fellows looking through the code, heres a tidbit for you, theres a very awesome hidden sensor we're gonna be revealing soon." Cool beans!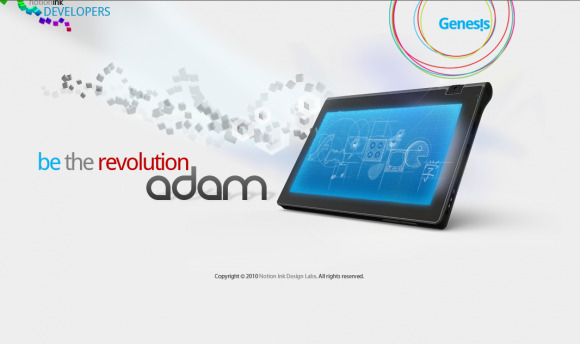 As you continue looking through the page you'll see the Developers tab which leads you to their Notion Ink Developers homepage, then you'll read all About them:
About Notion Ink

Notion Ink is a firm dedicated to pushing computing devices towards singularity. Adam is just the beginning, and there are areas where Notion Ink will enter, to challenge the norm, redefine the species or if need be to completely define a new one!

Notion Ink is young at heart which shows in its energy, people, operations and most of all in bringing challenging, creative and different concepts to reality. Notion Ink may be young, but it is far from reckless. Working with precision and confidence, it is not afraid to try something new, to push the envelope.

Notion Ink is all about realising dreams.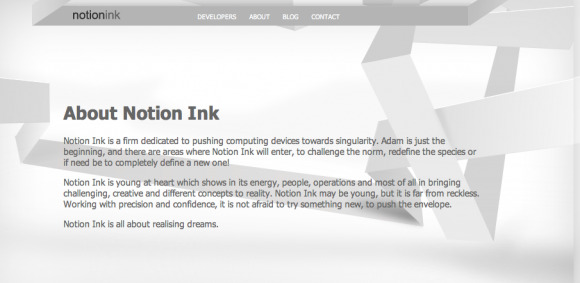 Head over to their blog, or contact them:
Contact Notion Ink

Write to us at the specific email address relevant to you:

You are a member of the press: press at notionink dot com

You want to suggest an idea or leave a comment: comments at notionink dot com

You want to distribute Notion Ink products in your region: relations at notionink dot com

You need more information about Notion Ink or its products: info at notionink dot com

Our postal address is:

Notion Ink Design Labs Pvt. Ltd.

Subramanya Arcade

Bannerghatta Road

Bangalore, Karnataka 560029

India.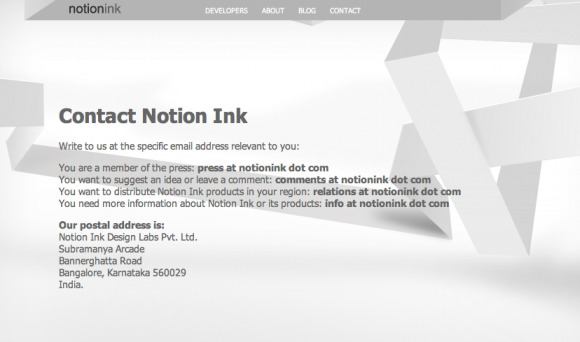 It's all very beautifully laid out and everything.