Notion Ink Demo Adam HDMI And Browser Tech [Video]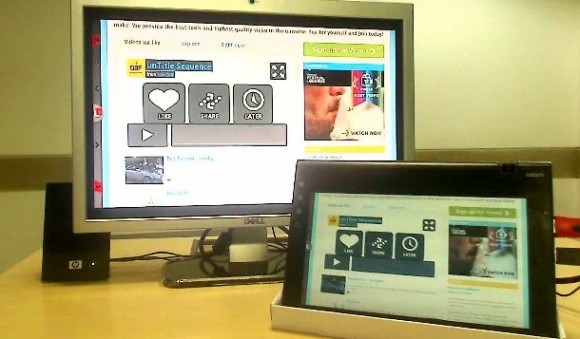 It may have been a holiday weekend, but Notion Ink has still been busy producing demo videos of the Adam tablet as the slate's release date edges ever-nearer. Both hardware and software are getting a workout, too, with the company kicking off with an HDMI demo as well as being used as a "false digitizer" tablet over the WiFi connection. Meanwhile, there's also some benchmarking comparing Adam to the iPad, iPhone and other Android browsers.
Video demo after the cut
That digitizer tech seems to have prompted some confusion in the past; Adam won't have an active digitizer, like a Wacom graphics tablet, instead simply allowing you to use the 10.1-inch capacitive touchscreen as a massive trackpad for your computer. Alternatively, with a capacitive stylus, you could use it for drawing; still, this isn't going to be a replacement for proper artwork production. Adam will also work with USB modems, as long as there are Android drivers for them; that latter point will likely be the stumbling block in most cases.
As for software, as well as a quick Christmas demo of the Adam boot-animation, it's the browser that has come in for attention next. Possibly the most important part of any consumer tablet, it's obviously something Notion Ink has spent some time tweaking; Adam scores 51,049 in Rightware's BrowserMark benchmarking tool, versus the iPad's 38,620 and the Nexus One's 23,726. All the controls run down a narrow bar on the left hand side, with pop-out buttons for tab management and the like. Obviously there's multitouch support, too.
Notion Ink Adam boot-screen
Notion Ink Browser Demo:
Notion Ink Adam Hardware Demo: