Notion Ink Adam pre-orders suffer minor labeling delay?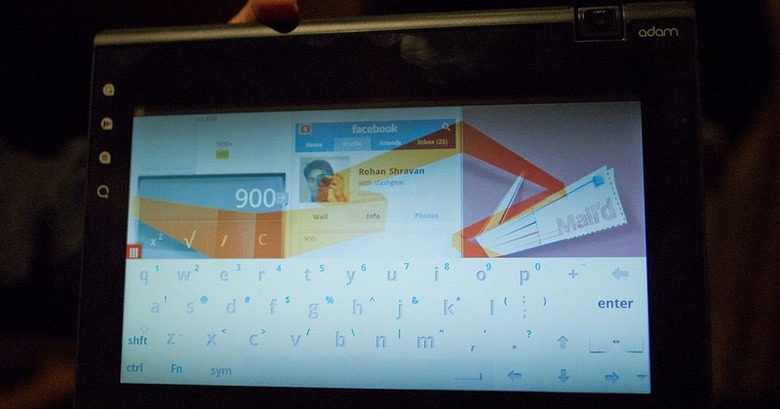 The first Notion Ink Adam tablet pre-order deliveries have apparently been delayed, with the company still waiting on final FCC and CE numbers before they can ship the slates out. SlashGear was forwarded a Notion Ink email from a pre-order customer, which claims that "the Holiday season in December pushed the administrative work and it will be cleared within this week."
Notion Ink had previously said that FCC clearance was the final hoop before pre-order units could ship, and it seems the holidays have delayed the final silkscreen printing of the necessary approval codes onto the back of the Adam slates. It's worth repeating that this isn't an FCC approval delay, but just the final labeling required to make sure the hardware complies with regulations.
We're waiting on an official statement from Notion Ink regarding the delay, but for now it seems there are just a few more days to wait before Adam wings its way out to customers. For more on Adam, check out our hands-on report from CES 2011 last week complete with video of the innovative Eden UI and multitasking system.
Have you received a delay email from Notion Ink? Let us know in the comments.
Dear xxxxx,

Greetings from the Notion Ink Support Team!

This e-mail is to inform you that your shipment is ready, but we are

awaiting final FCC and CE numbers which are to be printed on the

device before we can ship them to you. The Holiday season in December

pushed the administrative work and it will be cleared within this

week.

We request your kind patience and cooperation till we inform you of

your shipment.

As you may already know, the Notion Ink Adam was recently demonstrated

to a lot of people at CES 2011, and the Adam was appreciated greatly

and loved by everyone.

We really appreciate your continued support and effort that you have

infused into creating the Notion Ink Community.

Warm Regards

Jon

Notion Ink Support Team