Notion Ink Adam Manufacturing Samples Outed: We Want A Ferrari Red One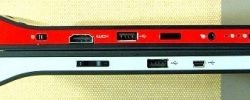 Given their tumultuous path to production, you can't really complain when Notion Ink wax lyrical about the first manufacturing samples of their Adam tablet. According to CEO Rohan Shravan, these newest samples have the final chassis textures, internal PCB layouts and LEDs, along with the near-final silkscreening.
It also apparently feels lighter than the previous prototypes, though there's no actual change in hardware specs as far as we're aware. Next step is tweaking the manufacturing set-up before mass production can begin.
Unfortunately what isn't finalized is the colors, which means this "Ferrari Red" Adam may not actually go on sale. What buyers will get is "Created with Love by Notion Ink" on the back, and while it might seem hokey, if we'd labored away at a DIY tablet project we'd probably want to say the same.