Notion Ink Adam II tablet, packaging, and dock revealed in slew of images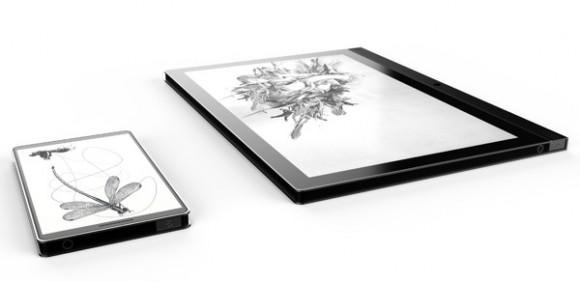 We saw Notion Ink's Adam II tablet in a blurry teaser image that was released back in November, giving us precious few details. This was followed up in May with official details being dropped, as well as another look at the slate. Now we're getting a better look at the device thanks to a slew of leaked images of the Adam II tablet, as well as its power cable, dock, and packaging. While the page on Behance where it was leaked has since been pulled, we've got a gallery of them for you after the break.
The images cover the whole gamut, ranging from the Adam II tablet to the dock and the tablet in the dock, to the packaging and the power cable and adapter. One image shows off the covers for the slate, and another features the stylus, revealing a type of stucco rubber grip. A couple diagrams are thrown in as well of both the power adapter and the packaging.
Some of the images are annotated with ribbons of information, and in them we see, for example, the dual tone leather cover for the tablet. The cover has a smooth finish and a magnetic locking strap, with the outside finish being "smooth" and the inside material listed as plastic. There will be three color options: Cerulean Blue & Smokey Grey, Coal Black & Burnt Umber, and Coal Black & Smokey Grey.
The stylus is designed with a "tapered angular profile," which – in addition to the rubber grip – is meant to make it easy to handle and to help avoid drops. And then there's the dock, which can be folded up into what looks like an easy to transport rectangle, with it forming a tri-shape when opened. There's a shot of the tablet within the dock, as well.
Per the official specifications that were released in May, the Adam II will feature a 10.1-inch IPS display, as well as a secondary black and white display on the side, a change up over the original Adam. The resolution is 1280 x 800. Inside, users will find a 1.5GHz dual-core ARM Cortex-A9 processor, as well as 1GB of RAM. The software is Android 4.2.2 Jelly Bean.
Other specs include Bluetooth, a 6000mAh battery with a reported life of 10 hours on a charge, and a rear/front camera at 2-megapixels. Price hasn't been revealed yet, but reports have surfaced saying the previously rumored $220 tag was wrong.
SOURCE: Behance (Google Cache)