Notion Ink Adam hands-on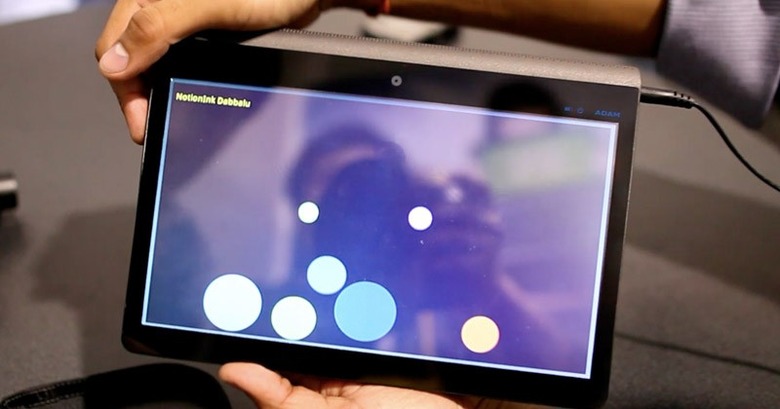 We first told you about Notion Ink and their Adam tablet back in December, and since then they've captured plenty of attention at CES 2010 for including NVIDIA's new Tegra 2 chipset and being the first use of a Pixel Qi display. We caught up with Notion Ink, company founder Rohan Shravan and the Adam prototype today for an extended discussion, not only about the hardware but exclusively about the company's plans and expectations for content and usage models.  Check out our exclusive photos and never-before-seen video after the cut.
Since it's a prototype the Adam's casing here is not what the final design will be; in fact this was hand-made especially for showing the tablet at CES. The eventual hardware will be 14mm thick (Rohan said they could even get it down to around 12mm) with a reasonably minimal bezel, packed with the 10.1-inch Pixel Qi transflective display, a capacitive touchscreen eventually capable of recognizing six simultaneous points of contact, integrated WiFi and 3G. Thanks to Tegra 2 the Adam is 1080p capable, with an HDMI port to output to an HDTV or projector, and while the OS they're showing today is bare Android they've a new UI in the works complete with a replacement on-screen keyboard more ergonomically designed for large-touchscreen use.
Pixel Qi's technology means you can operate the display in two different modes: as full color LCD for use indoors or in a low-power reflective mode that actually gets brighter the more direct sunlight falls upon it. This latter mode is comparable to E Ink in its appearance, but Pixel Qi can still show smooth, responsive video (and slightly muted colors). Users will be able to manually switch the backlighting on or off, or leave it set to automatic and have the Adam toggle it itself.  Notion Ink also offered to take the Adam out into direct sunlight so SlashGear could exclusively see the screen performance there.
So far so good, but what other sites haven't been able to show you is the digital magazine dynamic content that will be a centerpoint of the Notion Ink experience when the Adam tablet launches. Notion Ink are working with various content producers – including some big-name blogs – to "reinvent" magazines and newspapers, and while they wouldn't share any partner names they did show us some initial concepts.
Bear in mind that what you see in here are the company's earlier working concepts, some of which date back to 2007; Notion Ink will be showing off functional versions at Mobile World Congress in Barcelona come February 2010. As well as touch control the tablet will respond to accelerometer movement in all directions, whether that's for navigating through pages or controlling movement in games. The Adam will work as a window on one huge desktop, a UI which Notion Ink codenamed Enigma (there's a concept shot of it in the gallery below), with the view moving as you tilt, shake and flip the tablet around. They've also developed motion-based gestures for common tasks – often tricky on touchscreens – like selecting, cutting and copying text and images.
You may also have read that Notion Ink have a new 3-megapixel camera with a patented swivel action, and we're excited to be able to show you the first live pictures of that. Where in other photos we've seen the company discretely covering the assembly with their hand, or even showing a second prototype without it installed, here you can see the rotating camera barrel which allows you to flip the camera from front to back. The design means you can both use the Adam for video calling and for regular photography, and saves the cost and bulk of two sets of optics. On the back there's also a trackpad used – like we've seen in a far smaller way on the Motorola Backflip – to navigate without leaving smudges on the display. Initially the trackpad is 1:1 mapped to the screen, so you can tap and have the cursor show up exactly in the region you want it to; then it works as a regular trackpad, scrolling the cursor around and tapping to select.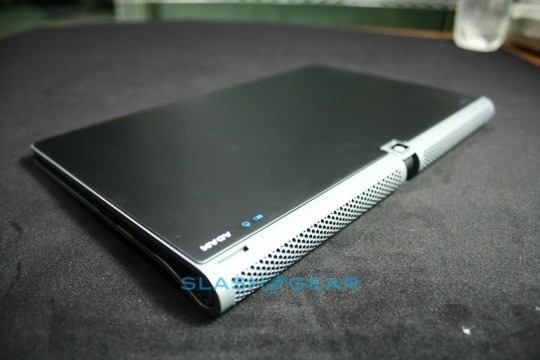 The Pixel Qi display and the frugal Tegra 2 chipset mean that despite the HD video capabilities, the Adam should excel in battery life, too. NVIDIA are saying tablets with regular displays (consuming around 2W) using Tegra 2 will last for around 16 hours of Full HD video with a standard 3-cell battery; Rohan says that, because their display uses just 0.2W in its electrophoretic reflective mode, with that 3-cell battery you'll potentially see up to 160 hours use. Remember, that's not just 160 hours of static E Ink style text, but the potential for video playback and digital content reading in color. Rohan also threw out a quick teaser about some unannounced upcoming features: if Tegra 2 has 12-megapixel camera support, what might you use that support for on a tablet? We're stumped right now, but we reckon SlashGear readers might have some suggestions.
If you can't tell already, we're really excited about what Notion Ink have achieved in the three years its taken them to develop the Adam. Right now, due to bandwidth constraints, the current video is lower-res than we'd like; we'll replace it with an HD version as soon as we can. By Mobile World Congress they're expecting to have optimized Android to shave boot-up time down to around three seconds, as well as making some announcements about pricing ("you'll be very happy" was all a grinning Rohan would say) and availability; we're already planning our meeting with them there.
Notion Ink Adam demo:
[vms 3dc27118a0f19a198571]