Notion Ink Adam: Flash, iPad Comparison & App Competition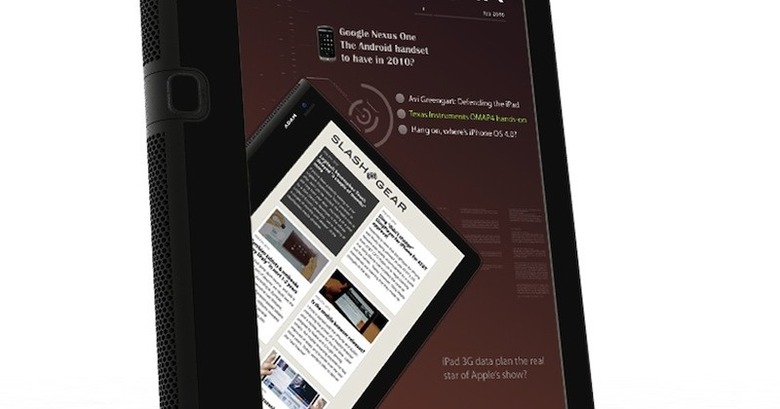 One of the most exciting products from CES 2010 last month was Notion Ink's Adam tablet, the Android-based slate using the latest-gen NVIDIA Tegra chipset and Pixel Qi's innovative low-power display.  The company had brought along a prototype they could exclusively show us, and now they've sent over renders of what's likely to be the final Adam design complete with some mockups of a SlashGear digital magazine.  And, since Apple's long-awaited entrant to the tablet arena – the iPad – has since made its debut, we also asked Notion Ink just how Adam holds up to the new competition.
The short answer is "very well indeed".  Particularly of note is the battery life; Notion Ink CEO Rohan Shravan highlighted Apple's "Up to 10 hours of surfing the web on Wi-Fi, watching video, or listening to music" [emphasis ours] estimates for the iPad, and pointed out that, thanks to Tegra's frugality, the same Apple hardware with the NVIDIA chip could run for 2-3x longer than the iPad manages.  That's before you factor in the Adam's Pixel Qi display, which stretches out the longevity even more, and of course Tegra is capable of outputting 1080p HD video whereas the iPad maxes out at 576p/480p via its optional component cable.
Interestingly – and hitherto unannounced – Notion Ink are apparently considering two versions of Adam for release, one of which could measure 12.9mm thick and the other 11.6mm; in contrast, the iPad is 13.4mm.  The company wouldn't say what the difference between the two units might be, but considering much of the bulk of the tablet is from the Pixel Qi panel we're wondering if they're also looking at a slimmer LCD version.  That could potentially be cheaper again, despite offering better battery life than the iPad.  Of course, that's just our speculation right now, and Notion Ink themselves are only considering the two models.
Shravan also tells us that Notion Ink's digital content partnerships are progressing swiftly, and that the Adam will launch with digital magazines, ebooks and comics from some significant collaborators.  No names we can share right now, but there'll be more information at Mobile World Congress 2010 next week.  There, they'll also be demonstrating the Adam running Flash, again something the iPad can't manage.
Finally, the company has told us that it will be running an Apps Competition, similar to Google's Android Developer Challenge, to encourage software designed for the Adam tablet.  Details of the Notion Ink competition haven't been finalized as yet, but we're told the prize fund will come in at over $1m.  We'll be talking to them more about it in Barcelona next week.
Looking for more on the Notion Ink Adam?  Check out our hands-on report from CES 2010.
[vms 3dc27118a0f19a198571]