Notion Ink Adam display neither matte nor scratch-resistant? [Updated]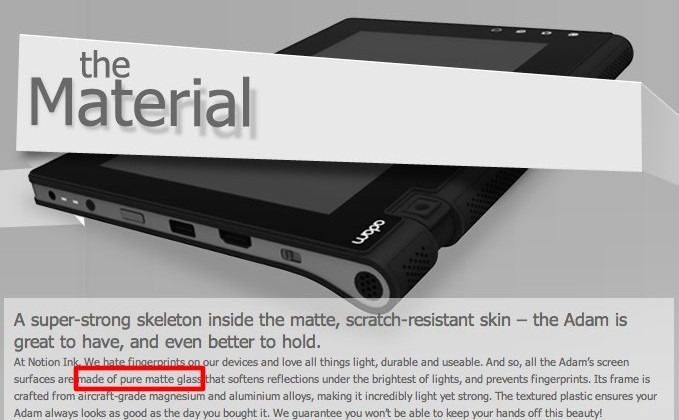 Frustration among Notion Ink Adam pre-order customers, as one of the most anticipated display features – the matte finish, scratch-resistant display – turns out to be not entirely as is seems. According to Notion Ink's "Design" page, the Adam tablet's screen is "made of pure matte glass"; however, according to company emails to pre-order customers, in actual fact the display itself is glossy and non-scratch-resistant, and uses an adhesive screen protector in order to meet the promises on the spec sheet.
Update: Notion Ink comment added after the cut
"A super-strong skeleton inside the matte, scratch-resistant skin –the Adam is great to have, and even better to hold. At Notion Ink, we hate fingerprints on our devices and love all things light, durable and useable. And so, all the Adam's screen surfaces are made of pure matte glass that softens reflections under the brightest of lights, and prevents fingerprints." Notion Ink "Design" description
It's unclear whether the screen protector is pre-applied by Notion Ink before the 10.1-inch Adam is shipped, or whether it will merely be bundled in with the rest of the included accessories. If the latter, it will be up to users to fit, which could result in frustrations given the adhesive panels can be tricky even on smaller, smartphone-scale displays.
The news is seemingly at odds with previous information from Notion Ink, where the company suggested it had experimented with different types of matte-finish glass to find an alternative to the usual glossy panels seen on tablets like the iPad. We're seeking clarification from the company now, and will update as soon as we know more.
Update: Notion Ink CEO Rohan Shravran has told us the following:
"Adam comes with 2 layers of Matte Surfaces, one on the PQ LCD screen, other through the Matte Screen protector on the outside Glass. Inside layer cuts the gloss on the LCD layer and colors are not washed out. For the outside glass we are using specially designed matte covers which users at their end can decide to use or not. It is finger stain resistant (oil component) and has same matte properties as on the LCD. The glass in itself is further scratch resistant."
Update 2: We've been talking with Rohan about the nature of the glass, Pixel Qi and LCD panels, and have some clarification. Both the Pixel Qi and LCD panels apparently have a matte finish, and the glass layer atop them "is already low in gloss, and when you add matte, it's pure matte." Rohan says the glass is both "scratch resistant" and "smooth so you can use a protective screens, so you can instead of using matte cover, use any other cover which you want."
[Thanks q!]