Not all Foursquare updates are created equal: Paid ads added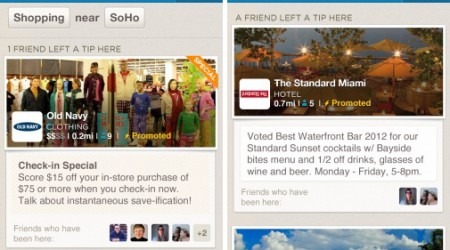 Foursquare has launched a new Promoted Updates pilot scheme, offering businesses the chance to boost their listings to the top of the page if they grease the algorithm with a little cash. Building on the existing Local Updates system, which allowed businesses to post their own status updates, Promoted Updates will be found in the Explore section of the Foursquare app, and the company says will benefit from the same personalized recommendations as regular updates.
"Anything that shows up is using all the algorithms and magic that power Explore" product manager Noah Weiss told Venturebeat, dispelling suggestions that the promoted listings would simply be dumb ads. "This isn't a display ad for an upcoming summer movie. This is: 'hey, we think you might really want to go to Hertz because you just landed at the airport."
In order to make the most of Promoted Updates, Foursquare will need to continue driving users to the Explore tab. That has apparently been on the rise anyway since the June app refresh, with twice as many place searches since then according to Weiss.
All of the Promoted Updates will be clearly marked "promoted" and there are apparently rules in place to limit how many such listings will be shown in any one session. Only twenty participants will be included in the pilot, including Best Buy, Butter Lane, Old Navy, Walgreens and The Standard Miami.
As well as seeing how well users take to the system, Foursquare will also be using the test to figure out what a reasonable charge for advertisers might be. After that, the company intends to launch a self-service platform which would allow businesses to create their own listings.