North Korea Says This Is A Rocket Not A Nuclear Missile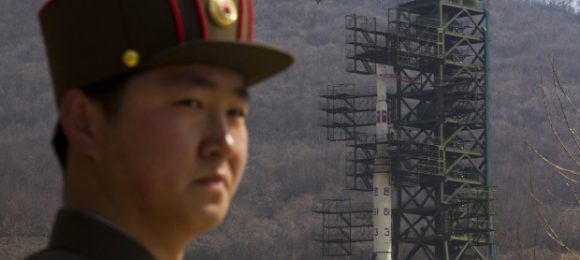 North Korea has rolled out the welcome mat and invited Western media to view its latest rocket, though intelligence agencies warn the "satellite launch" research is in fact a thinly-veiled nuclear missile test. The notoriously secret country plans to fire the rocket at some point April 12-16, with the stated aim being putting an observation satellite into orbit as part of centennial celebrations. However, it has encountered widespread criticism around the launch, with suggestions that it would contravene United Nations resolutions as well as being a colossal waste of money in a nation where the population struggles to feed itself.
Nonetheless, North Korean officials insisted this weekend that the testing would go ahead. The launch is being billed as a celebration of Kim Il Sung's birth, 100 years ago in mid-April.
However, intelligence sources in South Korea claim the rocket is little more than a test bed for a potential missile system that could reach North America, CBS reports. Satellite photos show piles of dirt stacked ready to fill underground tunnels as per previous nuclear testing; "North Korea is covertly preparing for a third nuclear test, which would be another grave provocation" the authors write, the AP reports.
North Korean officials refuse to discuss the relative priorities of funding expensive rocket testing when civilians are going hungry, and state representatives were whisked away from CNN's questioning when challenged. That wasn't before the launch site's chief, Jang Myong Jin, said he was "very disturbed by these claims" that the rocket is, in fact, a missile.
Pressed, he suggested reporters present "look for yourself." "Does it look like a missile to you? This is why we invited you here."
The Unha-3 rocket was shown fully assembled, with all three stages in place, over the weekend. North Korea is believed to have encountered difficulties in the past with mounting nuclear warheads to rockets; the satellite itself has not yet been mounted.
"During the recent senior-level North Korea-U.S. talks, our side made clear there's only a moratorium on long-range missile launches, not on satellite launches" Jang argued. He claims the relevant international agencies have been made aware of the launch, WTSP reports, and that the rocket and fixed launch base would be "useless" for delivering an intercontinental ballistic missile.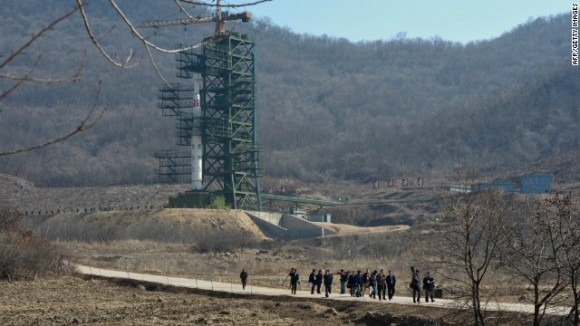 [Image credit: AP and CNN]