North Korea rocket launch prompts widespread nuclear threat fears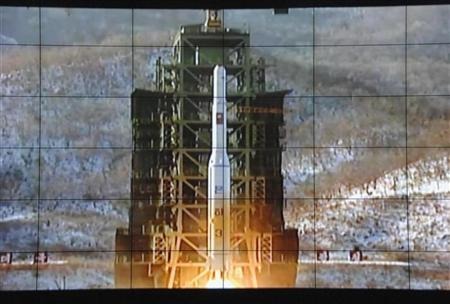 North Korea has successfully launched a rocket into space, deploying a weather satellite but raising international fears that the militant state is one step closer to a nuclear weapons system. Launched at 7:49AM EST, according to the North American Aerospace Defense Command, the missile was described as "a peaceful project" by a spokesperson from the North Korean Foreign Ministry, but met with widespread criticism from the US government and other countries.
The launch was "a highly provocative act that threatens regional security, directly violates United Nations Security Council resolutions 1718 and 1874, contravenes North Korea's international obligations, and undermines the global non-proliferation regime" the White House said in a statement today. "North Korea is only further isolating itself by engaging in such provocative act."
However, the North Korean Foreign Ministry insists that the mistrust is a tactical move to excuse raising military levels in the area. "The attempt to see our satellite launch as a long-range missile launch for military purposes comes from hostile perception that tries to designate us a cause for security tension" a spokesperson said,
Reuters reports.
Unsurprisingly, China has been similarly cautious in any outright criticism of North Korea. "China believes the Security Council's response should be cautious and moderate," a Foreign Ministry spokesperson said today, "protect the overall peaceful and stable situation on the Korean peninsula, and avoid an escalation."
"North American Aerospace Defense Command officials acknowledged today that U.S. missile warning systems detected and tracked the launch of a North Korean missile at 7:49 p.m. EST. The missile was tracked on a southerly azimuth. Initial indications are that the first stage fell into the Yellow Sea. The second stage was assessed to fall into the Philippine Sea. Initial indications are that the missile deployed an object that appeared to achieve orbit. At no time was the missile or the resultant debris a threat to North America" NORAD statement
The United Nations is yet to comment on the launch, but will convene an emergency meeting in New York today to discuss North Korea's actions. South Korea will be requesting harsher penalties for its recalcitrant neighbor than following the April rocket launch, Arirang reports, and seeking "stronger punitive measures."
Whether North Korea actually has a nuclear warhead compatible with its rocket technology is unclear. Although the country has previously claimed to be a nuclear power, the full details of its development program are still shrouded in mystery.