NorhTec Gecko Surfboard: $99 Linux PC In A Keyboard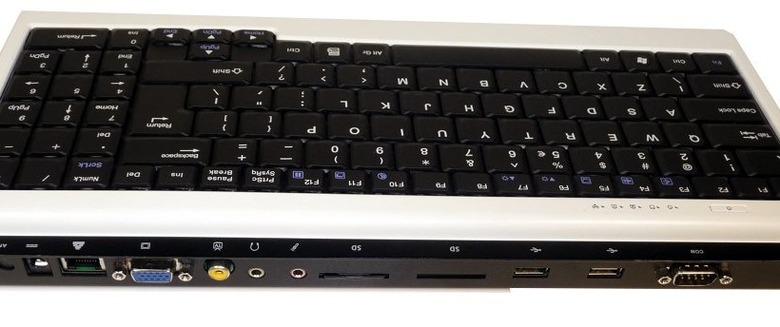 The oft-delayed ASUS Eee Keyboard is a great concept – squeezing everything from a nettop into a QWERTY form-factor – but what if your computing ambitions are even more moderate?  NorhTec reckon they have the product for you in the shape of the Gecko Surfboard, outwardly a regular QWERTY keyboard but actually packed with a 1GHz x86 system-on-chip (SoC), VGA and composite video outputs, 10/100 ethernet and optional WiFi b/g or even 3G.  The idea is you can hook it up to your TV or a spare monitor and get online without the hassle, bulk or cost of a regular nettop or PC.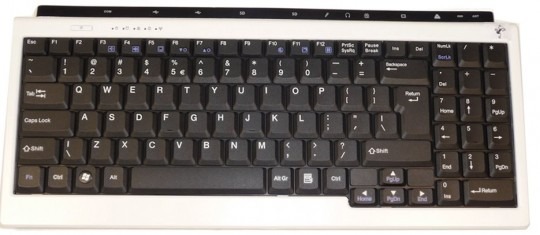 The whole thing draws just 5W and can run Linux or Windows XP, and while NorhTec admit that it's not up to playing games, it's certainly swift enough to get you online.  It can do so pretty much silently, too, as it's fanless and can either be booted from an SD/SDHC card or an IDE hard-drive.  RAM is 512MB and ports include two USB 2.0, serial and audio in/out.
Best of all is the price: NorhTec expect the Linux based Gecko Surfboard to cost just $99 and the Windows XP version to be roughly $150 when they arrive in January 2010.  Not for everybody, no, but if you're looking for a straightforward way to get online and want a full-sized keyboard, the Gecko Surfboard looks like an interesting possibility.
[via LinuxDevices]