NOOKcolor Selling On Barnes & Noble's eBay Store For $199 After Coupon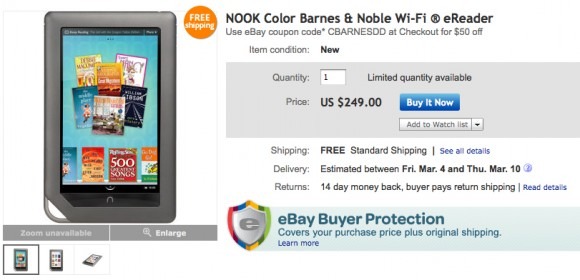 The NOOKcolor is already a pretty awesome little e-book reader and not to mention totally hackable–having been successfully rooted with Android 3.0 Honeycomb by some skilled XDA devs. But Barnes & Noble continues to work hard pushing the device, recently hosting in-store demo events offering free Starbucks coffee to test drive the device. And now they've begun selling the NOOKcolor discounted on eBay.
The device is being offered with an eBay coupon that gives you a $50 discount, dropping the price down to $199. Barnes & Noble's own website still offers the original pricing of $249. The deal seems to be good only on eBay and may have been launched to counter the competition from eBay sellers peddling the device.
We've done an extensive review of the NOOKcolor late last year. Its only true competitors are its e-ink cousins as the main decision really is between whether you prefer e-ink or not. For a device devoted to reading e-books along with the ability to consume other media such as full color magazines, photos, music, movies, and even for playing games, this price point can't be beat. On top of this, the firmware is built on Android 2.1 with the ability to be rooted for accessing Android Market and even e-books from Kindle via Wi-Fi connection.
[via Electronista]