NOOKcolor Demo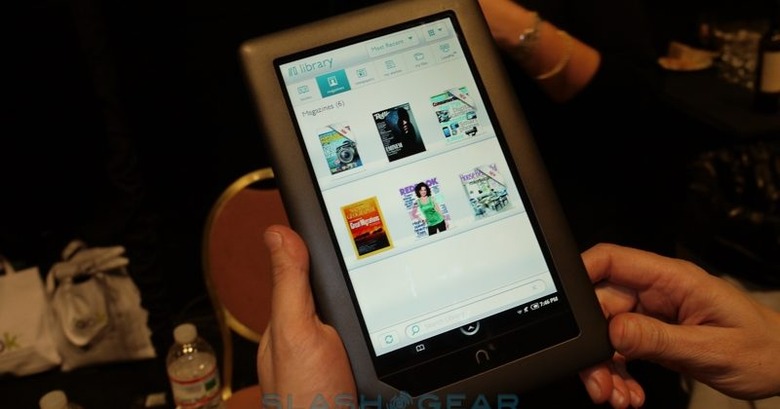 Our man in the field Vincent was at PEPCOM last night and got his hands on a NOOKcolor, checking it out a bit and even having a lovely demo done in front of the camera. It was here that we got to see firsthand a working model of the NOOKcolor device and all of the lovely features available on it at the launch. This is Barnes & Noble's 7-inch "ultimate reading device" of which there is "no more iconic, thin, [or] comfortable [an] ereader." Sound pretty snappy. Our presenter went through all of the clicks, pinches, and drags in turn.
The device has a 7-inch LCD backlit color display – what B&N found to be the optimal construction for reading and portability. Active desktop (dock below main desktop) has most recent 50 items read, all of these items able to be dragged and dropped onto the main desktop (of which there are three screens, similar to how you'd have multiple screens to place icons for apps in an Android smartphone.) On the desktop, each of these items can then be sized and placed anywhere, on top of, behind, next to, all around eachother like a real desk.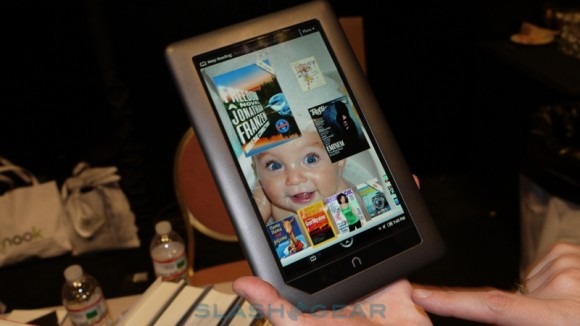 Once inside, say, a novel, you have a customizable reading experience: the font size can be changed, night mode can be turned on (turning the background to black and the text to white). Social Interaction includes the ability to highlight a passage from any bit of text, then sharing to places like Facebook, then tagging friends as one does so. Also inside the text one can bookmark, highlight, and during reading take notes as well.
When reading magazines there's a navigational function which includes a sort of dock that you can scroll through, showing you thumbnails of all the pages, allowing you to get to any page at any time. Magazines can be viewed both in portrait mode or landscape, navigating the same way for both. One can also pinch to zoom into pages as well.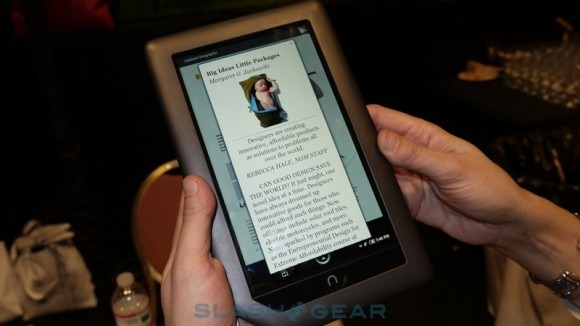 Article View (pictured above) is something that works inside magazines for when there's an article that would normally go 2 pages, then have several other pages of ads or other content and finish up later – this way you can read all of the text at once instead of flipping back and forth getting lost like you might in a real world magazine. Bookmarking here works too.
All children's books (example below) are displayed in landscape mode (as they should be, as most children's books are designed to be viewed both pages at once). Many of the children's books have narration (sometimes by famous people!) so the reader (a kid) can read along or have the book read to them. *I should note here that in a talk I had this morning with representatives from B&N (I'll be reviewing the NOOKcolor soon) I found out that the interactive aspect (that is, seeing items on pages move, being able to pick illustrations up and move them, etc, fun stuff, will not be available at launch, but will instead start rolling out in Quarter 1 of next year.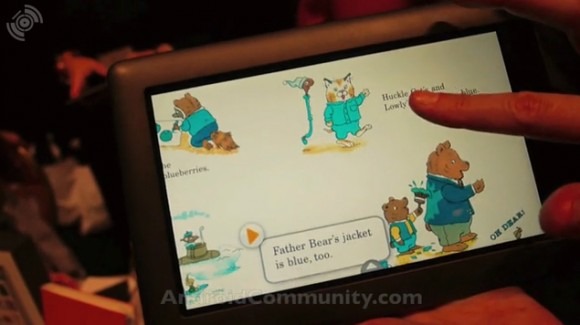 There's a Library feature (pictured below) where you can customize your shelves of your entire collection of books, magazines, newspapers, all customizable by you in whichever order you'd like them in (this is in addition to your desktop which is outside of the library, but these are the same books).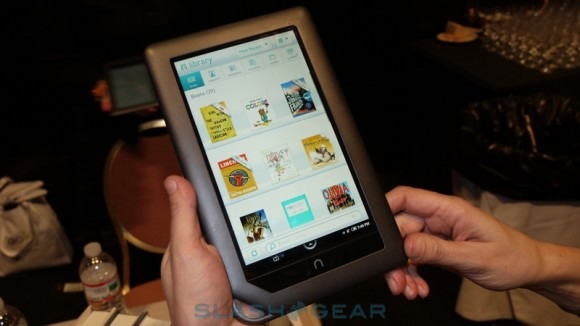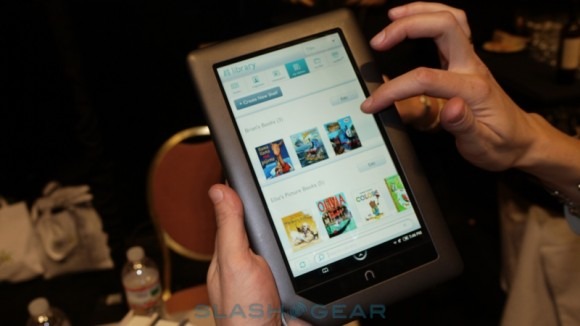 There's a Lendable feature (pictured below, but you'll be able to see a green ribbon on each book that's lendable once you see the device up close) which allows you to give (or get) a book to (or from) a friend for 14 days – a time during which the book is effectively transferred, appearing in the person who borrowed the book's library and inaccessible in the person's who lent it.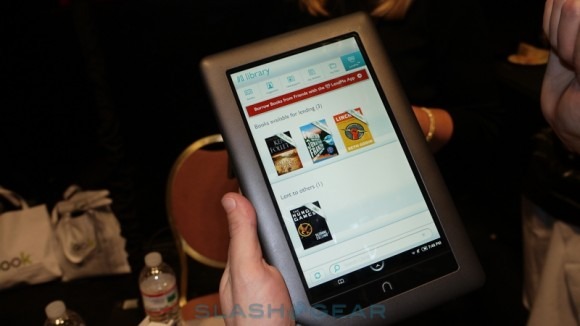 Inside the Shop there's several ways you can access books including lots of different ways to be recommended a book, categories to browse through, and of course a simple search function.
Take a look at the video here, then the gallery below (in which you can see the microSD memory card slot under the loop,) then view the unboxing and hands-on post by yours truly, then just wait for the weekend where I'll be posting a full review your your pleasure!
[vms 3682e8cb037d9719ad8c]
Now that our "A Week With" cycle is complete for NOOKcolor, take a look at all of the posts in turn:
A Week with NOOKcolor: HardwareA Week with NOOKcolor: Reading (aka Core Apps)NOOKcolor Unboxing and Hands-onNOOKcolor DemoA Bit of Extra Clarity for Would-be Developers of NOOKcolor Apps
and of course A Week with NOOKcolor: 3rd Party Apps and Final Wrap-Up