Nook Simple Touch with GlowLight Hands-on Wrap-up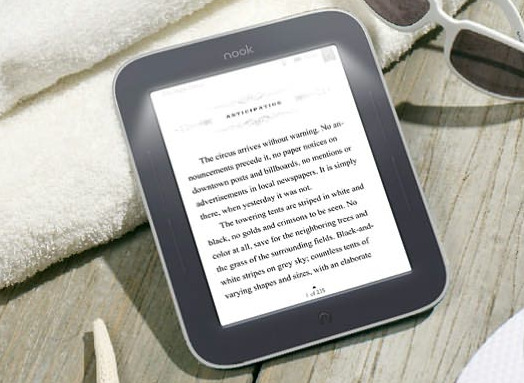 Barnes & Noble today revealed their next generation Nook in Nook Simple Touch form, this time with a brand new feature by the name of GlowLight. What we've got here is a $139 "Barnes & Noble Nook Simple Touch with GlowLight", perhaps the longest name in gadgets today, bringing the e-ink game to a new level of readability in the dark. Several publishers had their chance to take a hands-on look with this device in New York today, some of their more pointed opinions included here below.
Note here that the Nook Simple Touch is still going to remain on the market as a $99 offering while this model with the GlowLight feature will cost you $40 more. Barnes & Noble CEO William Lynch spoke with CNET today noting that the display's lighting is absolutely key to the success of this device – imagine that! As Lynch noted: "It was really hard to get the lighting just right so it displays uniformly across the display. We think people are going to be really happy with how it looks." As it turns out, it looks like people very much will if the following publishers have anything to say about it.
First as CNET's David Carnoy noted with device in hand, the light is great, but the idea that a consumer will think it's worth the extra cash might be up to debate:
"The big question, of course, is whether that integrated light will be worth the $40 extra to consumers. Barnes & Noble thinks it will be and presented a slide as part of its presentation, laying out the numbers and value proposition. Cases with integrated lights generally cost over $40 and while clip-on lights typically cost only around $20, they aren't as an elegant a lighting solution. Barnes & Noble is also throwing in a full-fledged AC adapter for charging the new Nook along with an antiglare screen protector." – Carnoy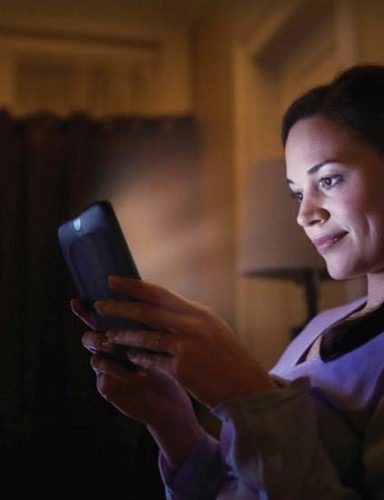 Next hear what Laptop Magazine's Anna Attkisson found most important to reflect on here in the GlowLight-laden slate, complete with a comparison to the iPad for good measure:
"The Nook Simple Touch with GlowLight solves the sleep problem because the light, while helpful, isn't bright enough to rouse your partner. During our hands-on time, we noticed no glare, and the Nook's screen shone brightly with the fairly well distributed GlowLight feature activated. In contrast, reading on the iPad with the brightness turned all the way up was a less enjoyable experience that ended up hurting our eyes." – Attkisson
Over at Computer World Barbara Krasnoff noted that she was "impressed" as she went through the motions that activated the new feature:
"The Nook Simple Touch with GlowLight ($139) illuminates the reading surface with 8 LEDs embedded in the upper inner edge of the bezel, just above the display. You turn these LEDs on by pressing on the button just below the display for a couple of seconds. A quicker press brings up a menu along the bottom; tap on the selection labeled "GlowLight" and you can adjust the intensity of the light via a sliding control. ... People who really enjoy reading — and who don't mind spending a little more in order to read comfortably in bed — may find that the Nook Simple Touch with GlowLight is well worth the slightly higher price." – Krasnoff
Over at Engadget, Brian Heater noted that the light created a wholly pleasant reading experience.
"The light is actually quite well distributed on the display. You'll notice a bit of a gradient at the top, near the light source, but after reading for a bit, odds are you'll completely forget about it. We used it for a bit in a darkened room, and it's really a pleasant reading experience, staying true to most of the benefits of e-ink." – Heater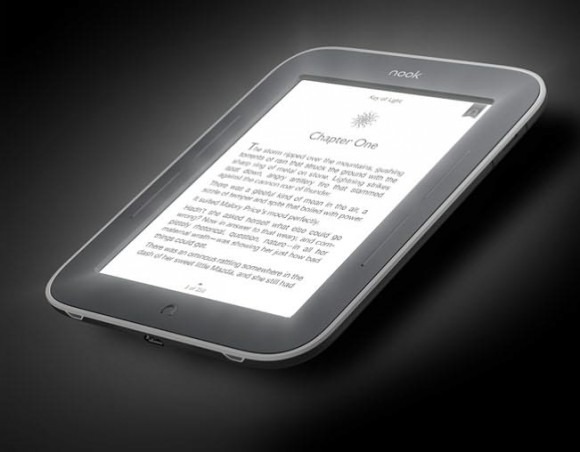 On The Verge Ross Miller noted that though they had limited time to inspect the unit, there was a bit of non-uniformity to be seen:
"Barnes & Noble calls it a patent pending technology that consists of scattering LEDs up top that work with an anti-glare screen protector to uniformly spread light across the screen. There might be some other tricks at play to make it uniform, specifically along the sides and bottom, but they wouldn't tell us anything more. Alas, we only had limited time with the device and weren't allowed to break it apart and explore further." – Miller
Gizmodo's Kyke Wagner spoke briefly on the impressive fact that this new device is not heavier, but lighter than its predecessor:
"And maybe most impressively, the improvements don't add any extra heft. The frontlit Nook is the exact same dimensions as the old Nook, and 5 percent lighter. That doesn't sound like much, but it's absolutely noticeable." – Wagner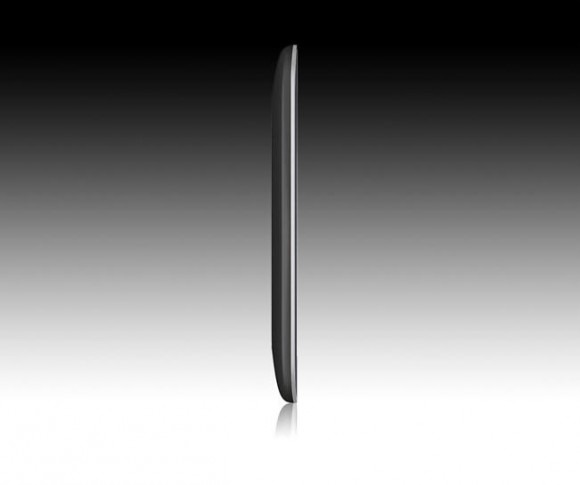 Finally Lauren Goode of All Things D noted some of the interesting conditions present at the actual New York City event which lead to some of the comparisons above:
"At a New York press event today, Barnes & Noble executives invited journalists to literally hop into bed with them in a dimly-lit room in a Manhattan hotel, where the new device was propped up against Amazon's Kindle Touch and Apple's new iPad. ... The iPad and Kindle Fire tablet were also displayed alongside the hotel's outdoor rooftop pool, in direct sunlight. (When asked what the contingency plan was if it rained today, a Barnes & Noble exec said, "Lots of lighting.")" – Goode
Catch the rest of our coverage of the whole Nook lineup in the timeline below, and let us know if you've got any questions in the mean-time!