NOOK Battery Whips Even Recalculated Kindle Insists B&N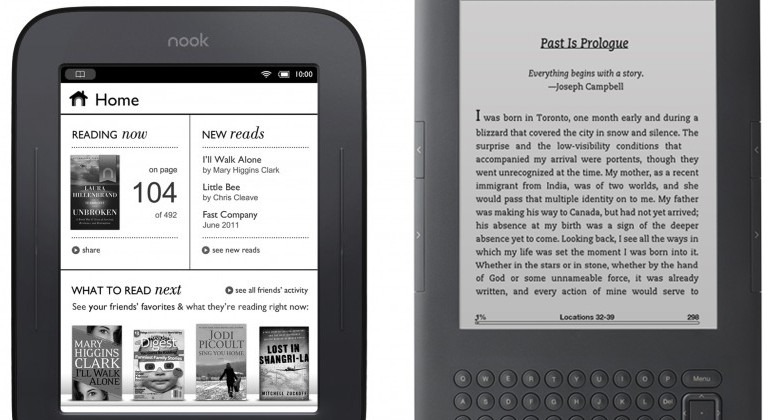 We may receive a commission on purchases made from links.
The aftermath of the new Barnes & Noble NOOK being announced has seen the ebook retailer locked in a battery life battle with arch rival Amazon, as the two firms spar over whose ereader lasts longer. Having seen B&N launch the touchscreen NOOK with the claim it would run for up to two months on a single charge, Amazon tweaked its own Kindle battery life estimates to match based on the presumed usage equation: wireless off and 30 minutes of use a day, or half what it had originally accounted for with the Kindle figures. Turns out, though, B&N is using no such sum, and reckons the new NOOK has demonstrably more stamina.
"A single charge lasts up to two months with wireless off based upon a half-hour of daily reading time. If you read for one hour a day, you will get battery life of up to one month. Keep wireless always on and it lasts for up to 3 weeks. Battery life will vary based on wireless usage, such as shopping the Kindle Store, web browsing, and downloading content." Updated Amazon Kindle battery estimate
In a statement from Jamie Iannone, President of Barnes & Noble Digital Products, provided to SlashGear, it's claimed that the comparative testing done actually looked at continuous usage with the NOOK side-by-side with the third-gen Kindle. Under those conditions, with a page-turn per minute, the NOOK ran for 150hrs:
"With up to two months on a single charge, the All-New NOOK has the longest-battery life in the industry and superior battery performance to Kindle 3. In our side-by-side tests, under the exact same conditions, continuous use of the device resulted in more than two times Kindle's battery life. While reading at one page a minute, the All-New NOOK battery lasts for 150 hours where the Kindle battery, using the same page-turn rate, lasts for only 56 hours (both with Wi-Fi off). We've also done a continuous page turn test and at one page turn per second, the All-New NOOK offers more than 25,000 continuous page turns on a single charge."
The updated NOOK isn't expected to go on sale until June 10, and in the absence of any reviews it's hard to tell which ereader actually takes the crown. If anything, it highlights how estimated usage figures can actually bear little resemblance to how owners actually use their gadgets: it all depends on how quickly you read, how often you use your ereader during the day, and whether you prefer to have wireless switched on (handy if you're relying on Whispersync to keep all your Kindle devices/apps up to date with your ebook progress) or off.